As excitement grows and the due date approaches, suddenly your to-do list can seem never-ending. Fortunately, our guide to setting up your baby's nursery will help you figure out what you need to do (and when!) so you're fully prepared to bring your newborn home.
From stocking up on baby bedding and picking the right mattress to choosing between a cot bed and a moses basket, scroll down for answers to the most important nursery questions.
When Should I Start Setting Up
My Baby's Nursery?
It's better to be over-prepared than under-prepared! You can never be too early when setting up your nursery in case your little one decides to say hello sooner than expected.
A pregnancy is a magical experience and will usually last 40 weeks, but it's common for babies to be delivered any time after 37 weeks. Just to be safe, we recommend completing your baby's nursery by week 36.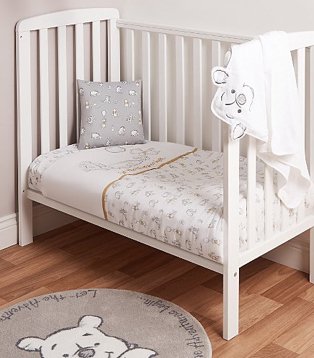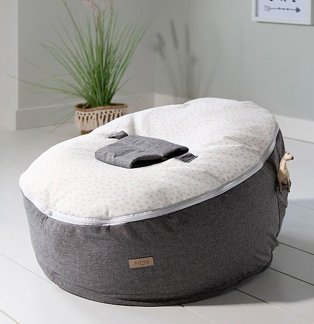 How To Set Up A Baby's
Nursery
Whether you're building your very first nursery or you're looking for tips on how to make improvements, our nursery furniture range is the perfect place to start.
From matching three-piece furniture sets to baby beanbags and reclining chairs perfect for feeding, we've got everything you need to build a stylish and practical nursery.
Should I Go For A Moses
Basket Or A Cot?
For the first three to six months, it's important your baby feels your presence when sleeping. A moses basket is a popular pick for this very reason. Place it right next to your bed at night and use the handles to move it around the house for convenient daytime napping.
We're amazed by how quickly newborns develop and grow! Soon enough you'll find your tot has outgrown their moses basket and it'll be time to invest in a larger baby cot. To avoid a last-minute scramble, plan ahead and pick out a cot bed from our collection.
For savvy parents, a Tutti Bambini sleigh cot bed is a great long-term option. Not only does it offer a handy storage drawer, but it also grows with your baby. Simply remove the safety rails once your bundle of joy becomes a toddler. It can even transform into a mini sofa that's just perfect for storytime cuddles!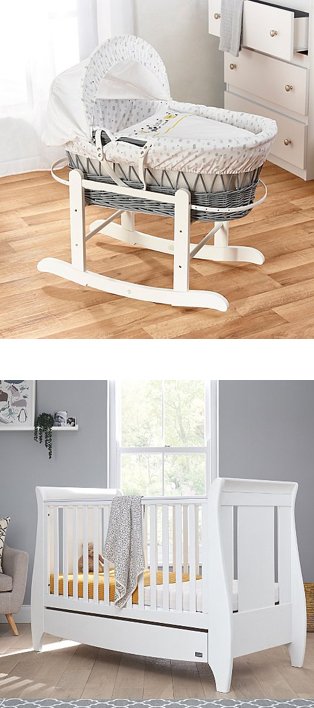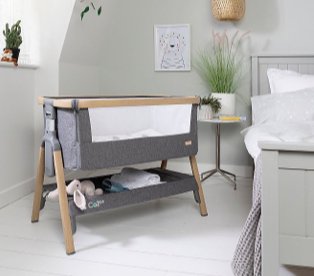 Co-Sleeping Essentials
Having carried your baby so attentively for nine months, we know how tough it can be to let them out of your sight (even when they're in a room just next door).
If you want to sleep as close to your baby as possible, remember to do your research and get yourself a bedside crib to practice safe co-sleeping.
It's Time To Think About
Baby Bedding
Raising a newborn is rewarding and full of fun but it's not always glamorous. There's no denying it: babies are messy! This doesn't change when they fall asleep, so make sure you've got plenty of baby bedding for late-night leaks and spillages.
To stay prepared, you'll need up to four sets of sheets and a waterproof baby mattress. Don't forget to make sure the mattress is firm and a snug fit, leaving no gaps.
Picking bedding for your nursery isn't just practical, it's also an opportunity to add super-cute patterns and colours to your baby's bedroom. Explore our nursery bedding collection and choose from fitted sheet multipacks and Disney-themed sets to baby sleeping bags and baby blankets.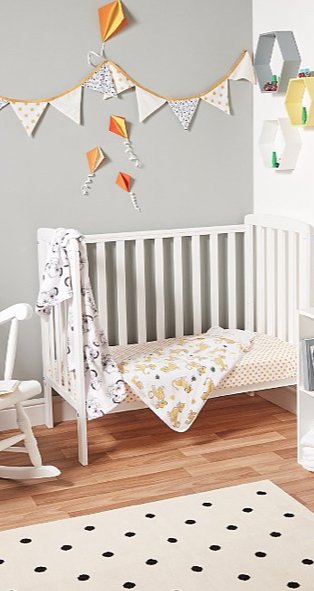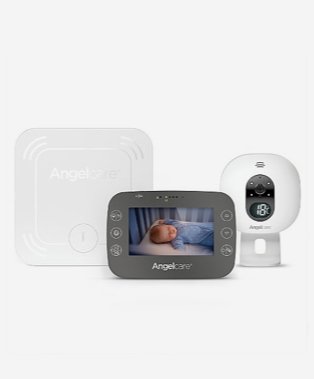 Picking The Best Baby Monitor
Being a parent in today's world means you can add safety technology features to your new nursery, including digital baby monitors.
Once your little one is settled for the night, get meal prepping or unwind with some TV and take comfort in knowing you can watch their every move via a smart baby video monitor. For even more peace of mind, our collection of baby safety essentials offers bedrails, stair gates and room thermometers so you can make your nursery safe and snug.
Add A Finishing Touch
With Nursery Accessories
The final step to complete your nursery is to build a cosy atmosphere and make it feel homely. Personalise their space with enchanting nursery accessories, ranging from kitten nightlights and star projectors to Disney character pillows and quirky play mats.
Whether you're going for traditional pink and blue nursery décor or gender-neutral themes, our adorable options will create a dreamy place that's perfect for little ones to sleep and play.