Get ready to give your bedroom a summer glow-up with our guide. From fresh sheets and low tog duvets to the latest home accessories, our summer bedroom decorating ideas will help you create a cool and comfy space to unwind – heatwave or not!
Why Update Your Bedroom For Summer?
Bedrooms can influence our mood more than we might expect. As the first place we see when we wake up and the last place we see before we go to sleep, a lovable bedroom is key to good vibes throughout the day.
We know tidy spaces can make us feel happier and calmer, but keeping it season-appropriate is just as important. Dark colour schemes and heavy tog duvets in summer? We'll pass! Instead, lighten and brighten your bedroom (and your mood) with breezy bedding, uplifting accessories and new-season nightwear.
How To Create A Summer Bedroom
If you're wondering how to decorate your bedroom for summer, you're not alone. Making bedrooms cosy with fluffy cushions and throws seems straightforward, but giving them a warm-weather update involves a little more planning. Check out our top tips to create a summer bedroom that will have you sleeping on cloud nine in no time!
1. Choose A Low Tog Duvet
We know how difficult it can be trying to get to sleep in humid weather. Instead of spending restless nights kicking off your covers, switch thick winter duvets for a lightweight design. For a summery sleeping combo, we recommend low tog duvets with a rating between 3.5 and 7.5.
On the hottest nights, ditch your duvet all together and sleep under crisp sheets and throws. You can also combat the heat by placing a fan near your bed.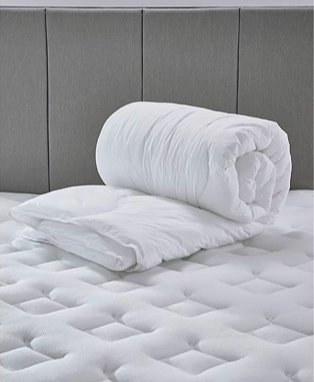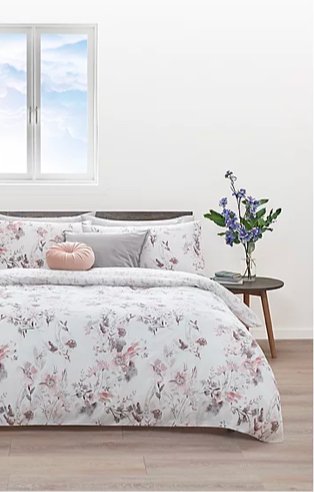 2. Pick Breathable Cotton Bedding
Choosing cotton sheets, pillowcases and duvet covers will keep your bed as comfy as possible. Natural fibres like cotton let your skin breathe, helping you regulate your temperature throughout the night.
Surprisingly, the colour of your bedding can also make a difference to how cool you feel. We love fresh and inviting white duvet cover sets on warm summer evenings, but you can also mix-and-match with soothing blues, greens and greys.
If you're still suffering from the heat, pop a pair of socks in the fridge and wear them before you go to bed – it works, trust us!
3. Enjoy Lie-Ins With Blackout Curtains
Light mornings and evenings are definitely something to celebrate, but we could do without the sleep disruption! To enjoy an extra hour (or two) in bed, update your curtains with blackout curtains and blackout blinds.
Blocking out those early morning rays, blackout designs also help protect bedrooms from the worst of the daytime heat. Lie-ins here we come!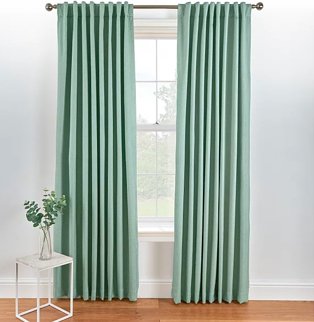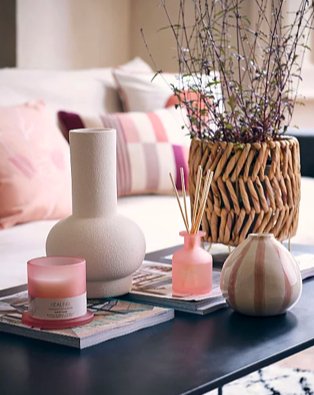 4. Add Pops Of Colour With Home Accessories
Small touches, like new home accessories, can make a big difference to your space. They're also a quick and easy way of refreshing rooms throughout the year.
Summer bedrooms are the perfect excuse to add a pop of colour. Breathe new life into bedding with sunshine yellow cushions and transform walls with slogan wall décor and brightening mirrors. For a stylish boho look, accessorise the corners of your room with seagrass baskets in neutral shades.
5. Refresh Your Bedroom With Artificial Plants
Summer bedroom décor isn't complete without plenty of greenery. If you're not a natural plant parent (we feel you!), artificial plants are a fuss-free alternative. Connect with nature by getting playful with large artificial plants or give bedside tables a green theme with cute cacti and succulents.
For extra detail, pick artificial plants typically found in tropical climates, including birds of paradise and cheese plants. Colourful plants pots and planters will make the perfect finishing touch to your summer bedroom design.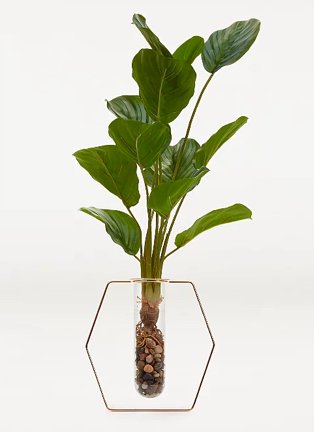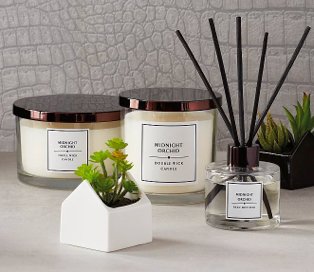 6. Select A Summery Scent
From freshly cut grass and floral notes to clean sheets billowing in the breeze, summer scents are one of our favourite parts of the season. To transport your room to your summer scene of choice, try scented candles and reed diffusers. For an extra spritz, place reed diffusers near your bedroom door so you pick up the feel-good fragrance every time you enter.
7. Kick Back In New-Season PJs
You guessed it – brand new bedroom décor calls for brand new pyjamas! For stylish summer slumbers, switch long-sleeved PJs for short pyjama sets and breathable nightdresses.
Whether you're ticking off your booklist or catching up on boxsets, keep your seasonal nightwear on point with lightweight dressing gown wraps in floaty chiffon designs. Complete the look with open-toe slider slippers for easy-breezy summer nights.