Interior designers and home décor gurus spend days, sometimes even weeks, deciding which curtains should go where – and with good reason!
From eyelet curtains and velvet designs to stylish patterns and prints, picking the right curtains can transform any room. Scroll down to discover our top tips and find out which curtains are best for every room in your home.
Curtain Inspiration For Your Home
When accessorising minimalist room décor, make your curtains the focal point with bold textures and colours. Or, for a more understated look, go for lightweight curtains in white or neutral colour palettes.
Whilst curtains are a fabulous finishing touch from a design perspective, they also help to meet many of the practical demands we've come to expect from our living spaces. Heavy fabrics insulate well in cold climates (or cold rooms) and blackout blinds can improve sleep quality.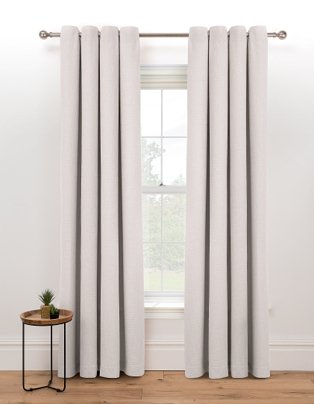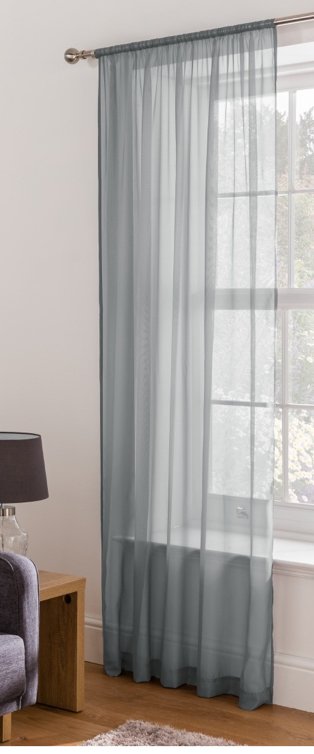 Which Curtains Are Best For Living Rooms?
We believe there's no 'right' or 'wrong' curtain style. Instead, there are certain types, colours and textures that will complement your living room furnishings and ornaments.
For a living room filled with bright furniture and vibrant carpets, subtle curtains will bring balance and prevent overcrowding. To make larger-than-life ornaments the centrepiece of the room, choose semi-sheer voile curtains. Elegant and breezy, understated designs won't detract from your carefully curated living room décor.
Searching for something a little different? Go big and bold with your curtains! Make a statement and draw eyes to your sitting room windows with on-trend eyelet curtains. For the ultimate living room combination, pair minimalist furniture with charcoal eyelets in crushed velvet.
The finishing touch to your new lounge will be your choice of curtain rail. Opt for a classic silver curtain pole with diamanté detail to complement flush charcoal curtains, or keep things simple with a matte black design.
What Are The Best Curtains For A Bedroom?
Having spent more time in your bedroom than you might have liked over the past year, now is the perfect time to refresh your bedroom curtains. Whether you need new curtains to help you sleep better or you want to switch up your décor, our bedroom curtain tips will have you covered.
What Are The Best Curtains To Block Out Light?
As lovely as it seems, the novelty of being woken up at dawn by the sunrise and birds chirping does wear off and soon you'll be longing for the extra hour in bed.
For a quick fix, explore our range of blackout blinds. Great for privacy, they're also easy to install and work with your curtains to shut out the early morning sunrise. We also recommend trying blackout curtains. Designed to block out the light, they come in various textures and styles – we're currently obsessed with herringbone patterns.
Combining blackout blinds with blackout curtains will be sure to get your sleep schedule back on track!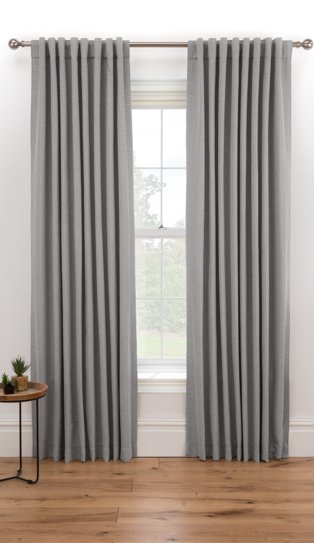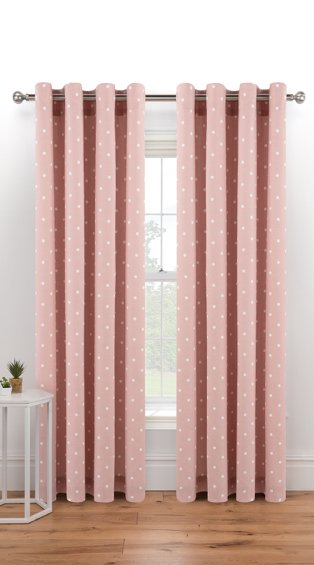 Explore Our Bedroom Curtain Ideas
Looking for some bedroom curtain inspiration? You're in the right place! Our collection of bedroom curtains is packed with the latest patterns and prints. From polka dots and stripes to floral prints and butterfly designs, you're bound to spot something to brighten up your sleeping space.
With monochrome colour schemes making a return to fashion in bedrooms across the country, why not tap into the trend and check out grey curtains for your bedroom?
Bringing a touch of tranquillity to your home, monochrome palettes are ideal for anyone who has had to blur the lines between their personal and professional space over the last year. They're also the perfect way to make your bedroom features and accessories stand out.
What Blinds Are Best For Bathrooms?
While curtain fabrics can be challenging to wipe clean, blinds are great for tackling bathroom humidity. They also let just the right amount of light peek through bringing privacy while you enjoy a bubble bath.
We recommend going for a fresh and elegant approach to bathroom décor and it's no different when selecting blinds for your bathroom. From roller blinds to Venetian blinds, our blinds come in styles suitable for all bathroom types.