What's The Best Bedding For Winter?
When the temperature starts to drop, there's nothing better than curling up in warm winter bedding. While there are plenty of different designs to choose from, the best bedding for winter includes high tog duvets, duvet covers in textured fabric and lots of layers.
How To Update Your Bedding For Winter
Follow our top tips to stay snug all season long.
1. Get The Basics Right
A good night's sleep can improve both your mood and your overall health, so it's important to get the basics of your bedding right before moving onto season-specific designs. Instead of tossing and turning on an uncomfortable mattress or investing in a new one, use a mattress topper for a fuss-free and budget-friendly alternative.
A must for a peaceful night's sleep, toppers prolong the life of your mattress while keeping you supported as you snooze. To instantly soften a firm mattress, we recommend opting for a memory foam topper.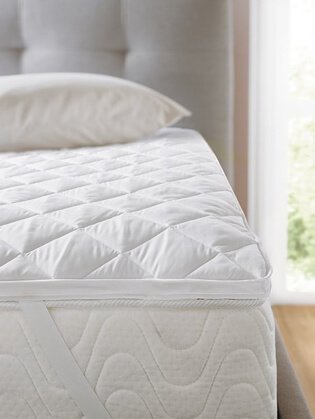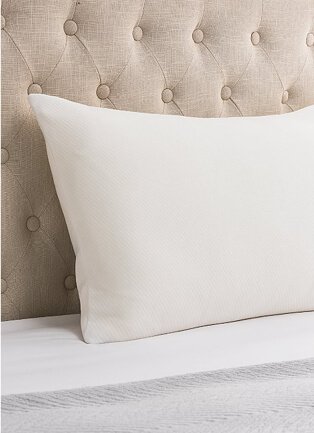 2. Pick The Perfect Pillows
Picking the right pillows is key to the quality of your sleep. Telltale signs you may need to update your pillows include constantly needing to plump them, noticeable lumps in the filler and waking up with aches and pains. Even if your pillow doesn't look worn-out, it still may not be the best choice for you.
While pillows with a firm design are great for those who sleep on their sides, stomach or back sleepers may want to opt for flatter and softer styles. You can also choose anti-allergy pillows or anti-snore pillows for the ultimate sleeping set-up.
3. Select A High Tog Duvet
The tog rating of your duvet measures how warm it is, with higher tog ratings meaning a more insulating design. For the winter months, a 13.5 tog duvet is ideal, but any rating over 10 should help you stay snug.
When summer comes around, store your thick duvet in a storage box and refresh your bedding with lightweight styles more suited to warmer weather.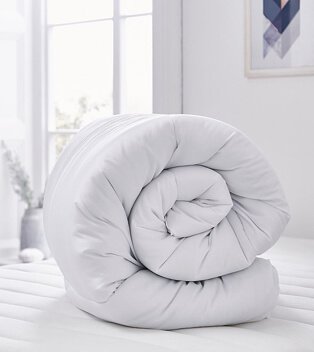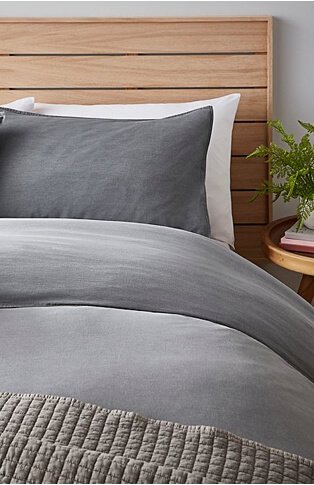 4. Stay Stylish With Seasonal Duvet Covers
As well as updating your duvet and pillows for winter, it's a good idea to transform your bedding with seasonal duvet covers. For maximum warmth, pick duvet sets with a textured finish like tufted cotton. Ticking the box for stylish and snuggly, they're sure to help you fight the frost while transitioning your decor into the new-season.
The colour scheme of your bedding can also create a cosy ambience. From rich jewel tones like purple and teal to rustic red and mustard yellow styles, we're well-stocked with seasonal styles to choose between. Admittedly, it's a tough decision!
5. Layer Up Your Bedding
Layers help create pockets of warm air to make your bed as welcoming as possible. To add extra insulation to kids' bedding, layer a thin blanket between two sheets. It's a simple trick that's sure to bring the snuggle points, keeping little ones warm through the night.
Complete the bed you've been dreaming of with throws and fleece blankets. Since decorative soft furnishings will go on your bed last, make sure you pick designs that will complement the rest of your décor. For an on-trend and winter-ready option, choose chevron blankets or luxurious velvet-feel throws.
Remember, you can always add or take away layers to find the right sleeping temperature for you and your family.
6. Transform Your Bedroom Décor
You've revamped the bedding, now it's time to elevate your surrounding space for the colder months. To give your space that snug vibe, select warm white lighting such as sidelights and floor lamps to create a gorgeous glow that's perfect for unwinding. Thick curtains and woven rugs will also help insulate your room for winter.
For nightwear just as cosy as your bedding, choose long-sleeved pyjamas in textured materials like fleece and ribbed cotton. A super-soft dressing gown and faux fur slippers will make fashionable finishing touches for when you're relaxing at home.