More relaxed than skinny jeans and more formal than jeggings, straight leg jeans are the new go-to denim. Perfect for down days, work and brunch with your friends, they nail the understated look while being undeniably comfy.
We know incorporating a new trend into your wardrobe can feel daunting – especially if you're in the habit of wearing the same shape jeans. This is where our straight leg jeans style guide comes in handy! From layering with blazers and jumpers to picking seasonal shoes, we'll help you feel confident styling this staple every day of the week.
Why Wear Straight Leg Jeans?
With their 90s vibe and effortless cut, straight leg jeans are fast becoming a denim favourite. As well as being easy to dress up and down, their relaxed silhouette is just the thing to bring a contemporary twist to your outfit. Discover more reasons to try out the trend below.
Versatile Shape
If you thought that no jeans could ever be as versatile as your skinnies, think again. While straight leg jeans have a laid-back shape, you can tailor them for any and every occasion by mixing up the wash of the denim.
Simply pick black straight leg jeans for a smart finish or opt for bleached or mid-wash denim for an off-duty feel.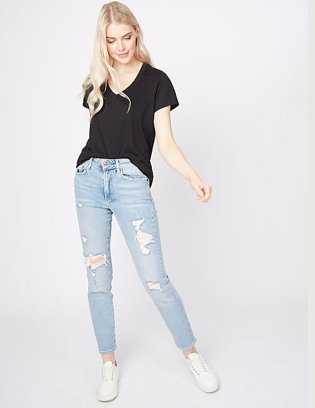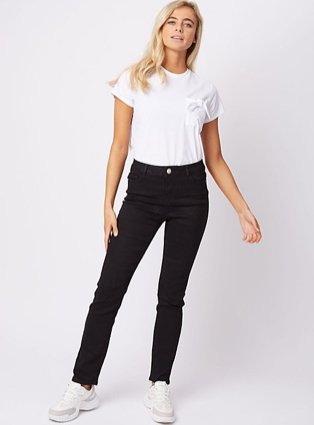 Comfortable Cut
Straight leg jeans are all about embracing a looser fit for maximum comfort. With the width of the hem running straight from ankle to hip, feeling restricted in your denim will be a thing of the past.
Keep it casual on weekends by teaming your jeans with cosy knitted jumpers or contrast the comfy cut with smart shirts and blazers for work.
Contemporary Finish
If you're searching for denim that will add some modern charm to your wardrobe, look no further than straight leg jeans. Due to their roomy fit, straight jeans bring a contemporary touch to everything from parkas and padded coats to heeled ankle boots.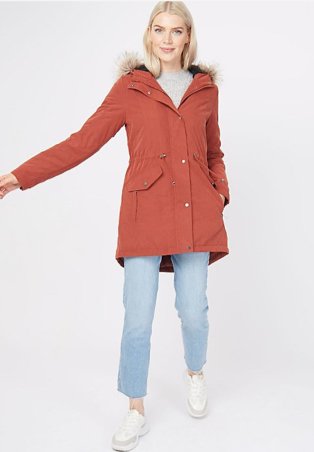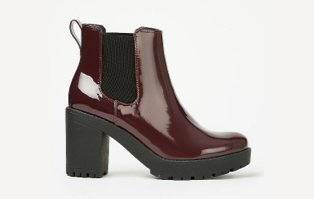 Straight Leg Jeans Style Tips
Whether you're searching for a fresh workwear look, an outfit for down days or a weekend get-up, discover how to wear straight leg jeans with our style tips.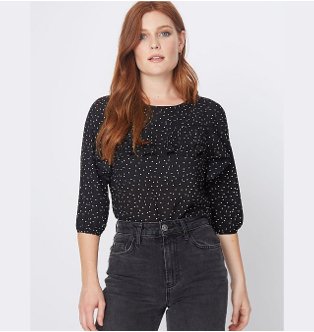 1. Refresh Your Workwear
To transform your straight jeans into a workwear essential, choose dark-wash or black denim. Another bonus of this smart update is that darker washes transition from day to night with ease. 'Cos sometimes there just aren't enough hours in the day!
Complete the look with a loose shirt, simple hoop earrings and formal outerwear such as a longline coat or an oversized blazer.
2. Choose Weekend Knits
Nothing says winter weekend dressing like cosy knitwear. From chunky knitted jumpers and cropped cardigans to textured sweatshirts, casual knits pair perfectly with straight leg jeans due to their relaxed vibe.
Opt for chic neutral knitwear to dial up the vintage factor or go for a bright design to inject some colour into your winter wardrobe.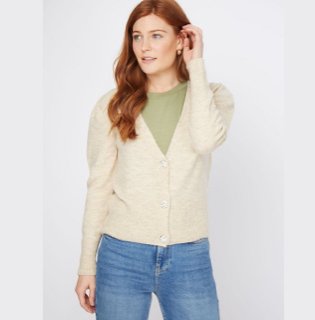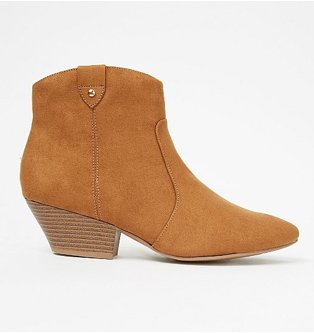 3. Pick Chunky Shoes
Picking the right shoes for straight leg jeans can be difficult. While you can easily tuck skinny jeans into narrow footwear, the loose shape of straight jeans poses more of a problem.
Solve this style dilemma by opting for chunkier footwear. From cleated ankle boots, buckled boots and thick-soled trainers, be bold when it comes to footwear. Just remember to cuff your jeans to show off your shoes.
4. Contrast Your Look
From puff-sleeved blouses and jumpers to frilled cuffs, oversized sleeves are one of the most popular trends of 2020. Thankfully, this eye-catching design is just the thing to contrast with the understated look of straight leg jeans.
Plus, if you're working from home or catching up with friends, a statement top and comfortable jeans are an ideal video call combo.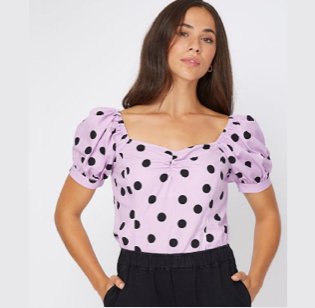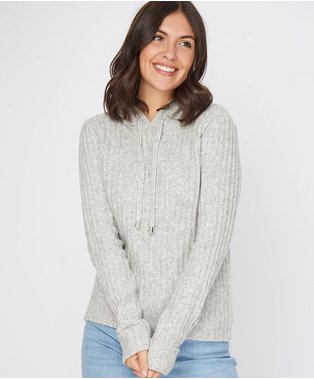 5. Be Confident
Debuting new items can be tricky – especially when it comes to wardrobe staples such as denim. No matter how you choose to style your straight leg jeans, the golden rule is to wear them with confidence.
If you need some familiarity, team your jeans with items you already know and love. Whether that's a slogan sweatshirt or a super-soft loungewear top, pairing your jeans with well-worn favourites will help you feel more comfortable trying out the trend.