When it comes to workwear, any outfit that gives you an extra few minutes in bed is a winner. While this doesn't give you the green light to wear to work what you wore to bed, it does make effortless and easy-to-wear pieces essential. With sunny skies calling for a complete refresh of your nine to five look, lightweight designs should also be at the top of your list. Thankfully, the ultimate throw-on-and-go workwear staple is a work dress.
Whether you're returning to the office or you're looking to refresh your WFH wardrobe, our dresses will ensure you stay smart, cool and comfortable all summer long.
Why Wear A Work Dress?
Life (and especially work) can be complicated, but that doesn't mean your workwear has to be. Stylish and simple to wear, a reliable work dress will help you look put together and ready to go – even if you've forgotten your morning coffee.
Luckily, the days of stuffy grey suit dresses are gone. In their place are vintage inspired tiered dresses, cosmopolitan midi dresses and sleek utilitarian designs. Not only are the following suggestions just as suitable for commuting as they are for video calls and lunchtime park escapes, but you can be sure they'll add a taste of summer to your workwear.
The Commuter's Pick: A Midi Dress
If you've switched up your usual commute for a sunny cycle or walk, you'll want something practical as well as stylish. With a contemporary shape and more coverage than your average summer designs, a midi dress will stop you scrambling for your hemline every time there's a gust of wind.
While angel sleeve midi dresses and wrap midi dresses ooze sophistication, frilled and printed designs will bring some playfulness to your workwear. For days when the sun is being stubborn, layer your dress with a white T-shirt for some '90s charm. A pair of white trainers will transform this outfit into a commuter's dream.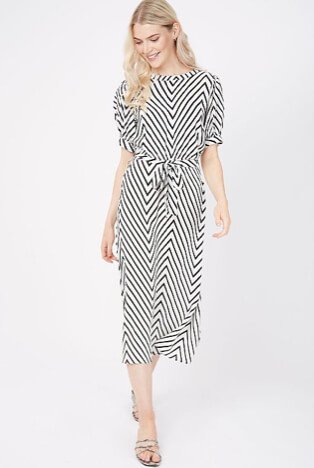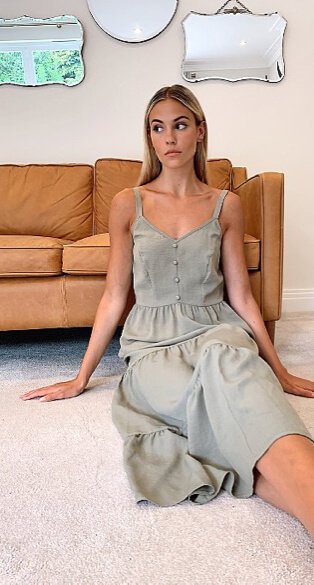 The Video Call Combo: A Summer Dress
A work wardrobe is no longer just about what looks good in the office; it's also about what looks good at home. Whether you love them or hate them, video calls have become an essential part of your WFH routine (and that's not to mention video quizzes!). If you're running low on statement blouses for your weekly briefings, mix things up with a summer dress instead.
Previously, you may have been tempted to stick to neutrals for meetings, but cool-toned colours like blue and green work best for video calls. From khaki utility dresses and mint green shifts, to teal shirt dresses and denim pinafores, get inspired by the sky and sea for a webcam-friendly colour scheme. A few camera height accessories (think earrings, necklaces and hair slides) will ensure you master the video call dress code.
The WFH Winner: A Smock Dress
Comfort is key when you're working from home. However, there's only so many times you can wear the same pair of joggers (in theory anyway). If you're getting bored of your loungewear rotation and want an outfit that looks fashionable but still feels fuss-free, opt for a smock dress.
Proving that comfortable can still be chic, smock dresses are famed for their lightweight fabric and unstructured style. Not only does this make smock dresses the ideal shape to keep cool in balmy weather, but they're also a trendy low-maintenance look for working from home.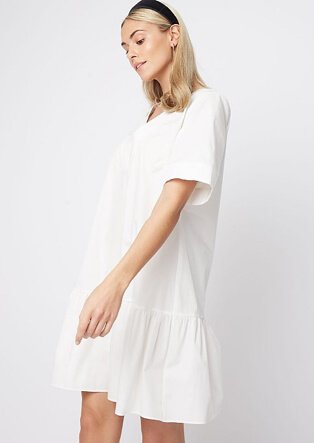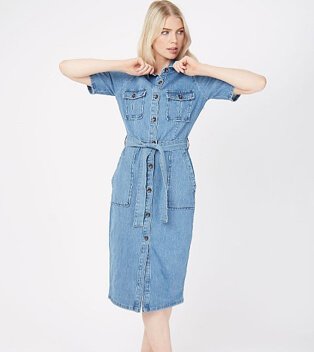 The Business Look: A Shirt Dress
There are some days when your to-do list is as long as your arm. If you're lacking motivation and need a little something to get you into gear, giving your outfit a smart twist is a great tactic. Still effortless to wear but with a sophisticated edge, shirt dresses will be your go-to. Team a classic black design with a bold red lip for a timeless business look.
The Versatile Hero: A Tiered Dress
Searching for a dress that will take you from your desk to the park with ease? Look no further than the tiered dress. With a retro silhouette, a comfortable fit and a range of hem lengths in everything from mini and midi to maxi, tiered dresses are the ultimate versatile pick for summer 2020.
Striking the right balance between office-appropriate and WFH-suitable, this floaty design will set the scene whether you're popping to the shops, having a video call or picnicking in the park.