If the delicious smells and sounds of sizzling food are anything to go by, BBQ season has finally arrived. The perfect family activity to let you unwind, there's nothing quite like homemade barbecued food to impress your loved ones. Whether you're a potato salad making pro, a burger expert or the master of crisps and dips, the best way to someone's heart is through their stomach!
From prepping plans and garden furniture ideas to the ultimate BBQ dishes, our guide will help you create a special event for your family to enjoy.
Top BBQ Tips
Between sorting the food, organising the garden and worrying about the weather, having a BBQ can seem like a time-consuming task. Even so, after a long week indoors, it's worth investing some extra effort when it comes to family activities – especially if you can head out into the garden! Thankfully, focusing on a few easy steps can simplify the planning process:
Keep It Casual
The key to a brilliant BBQ is keeping things casual. With so much to organise, you don't want to set your heart on complicated food and elaborate decorations. There are only so many hours in a day!
Instead, choose recipes you feel confident with and share out tasks with your kids and partner. As well as lessening your workload, it will make the whole atmosphere of your BBQ feel more relaxed.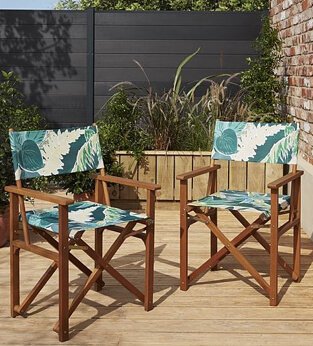 Consider Garden Furniture
It can be tricky to find the right balance when it comes to garden furniture. While being comfortable is a top priority, too much furniture can get in the way of outdoor games.
Although garden sofa sets are ideal for regular outdoor dining, individual chairs are a better choice for family BBQs. Allowing plenty of space for garden toys, garden chairs will give you much-needed flexibility over the layout of your BBQ.
Pick The Best BBQ
The star of your outdoor event is your BBQ. Alongside feeding hungry family members, the right BBQ can make the difference between a stressful and stress-free cooking experience.
The main decision is whether you opt for a gas BBQ or a charcoal BBQ. While gas BBQs are faster to heat up and easier to control, charcoal designs give food that traditional smoky flavour. Thankfully, there's no right or wrong answer and the perfect pick all comes down to personal preference.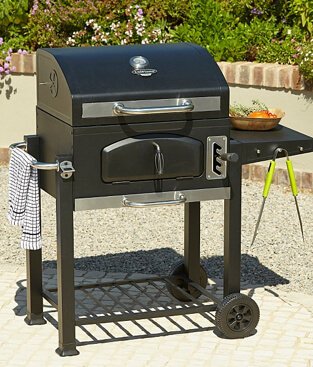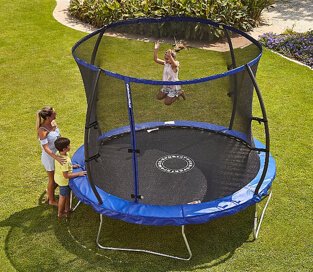 Remember Outdoor Toys
As well as providing plenty of food, you're also going to need to keep little ones entertained – perhaps the hardest challenge of all!
If you're short on space, garden toys like basketball sets are a foolproof choice. Or, if your garden is large enough, trampolines and swing sets will occupy them all day long.
The BBQ Food Plan
Now for the fun part: food! If you're searching for inspiration besides those all-important burgers and halloumi kebabs, check out our favourite BBQ dishes below:
Count On Crisps & Dips
The wonderful thing about BBQs is their relaxed nature. Even so, this can be both a blessing and a curse as it means there's no fixed eating time. To stay in your family's good books while they wait for food, prepare a selection of crisps and dips.
If you want to whip up classics like salsa, tzatziki and humous in record time, use a blender to show-off your dip making skills. Letting you produce an irresistible spread, homemade dips will bring a lovely authentic touch to your BBQ.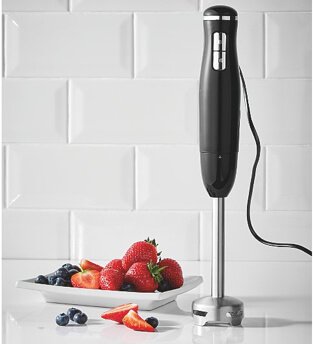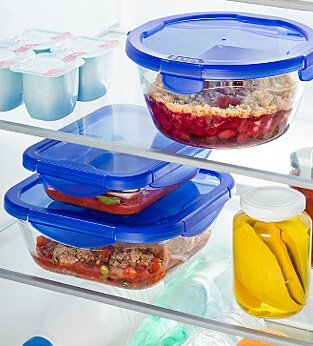 Show-Stealing Salads
The grilled food doesn't have to steal the show. In fact, it's the salads that can really give the wow factor to your BBQ. From classic potato salads and fresh garden salads to pomegranate and couscous creations, use your imagination to spice up your selection.
For fast and efficient preparation, get multiple chopping boards on the go. You can also keep your salads fresh in kitchen storage containers until you're ready to tuck in.
Practical Presentation
To truly embrace the casual vibe, forget formal tableware and focus on picnicware instead. A practical option with kids running around, melamine plates and plastic cups will stop you worrying about breakages.
Besides, your family will be far too busy complimenting your food to notice the crockery!