There are both pros and cons to working from home. While it's convenient and saves you the hassle of commuting, it can be difficult to design a stylish and streamlined working environment. Tempting as it is to slouch on your sofa or
bed
, they're not ideal places for taking calls and making notes. If you want to enjoy blue-sky thinking in a chic, well-organised workspace, we've got your back.
Featuring home office essentials like desks and table lamps as well as on-trend and motivating office décor, our guide will help you maximise space and encourage creativity.
Home Office Basics
Getting the basics right can make a massive difference to your working from home experience. Find out how to master them below:
Choose Comfortable Furniture
A home office should allow you to get down to business, not make it harder. If you're feeling uncomfortable, keeping productive will be even more of a challenge. With this in mind, practical furniture is key.
Alongside investing in a dedicated desk, spend some time finding the perfect chair for a seamless working experience. To make sure your back stays supported, look out for designs with adjustable features.
Organise Your Space
A messy and disorganised office is a recipe for disaster when it comes to working from home. To keep on top of things, stock up on smart storage solutions, like boxes, drawers and hooks.
If you're short on space, a good trick is to organise upwards using shelving. Making the most of cramped rooms, this tactic will let you store all your essentials without your home office becoming overcrowded.
Limiting yourself to only using one mug a day (yes, one!) will also prompt you to clear up as you go along.
Welcome Natural Light
Struggling to stay awake? Open those curtains and blinds! Increasing your efficiency and protecting your eyes, natural light is fundamental to working from home. It also makes your office look more spacious and inviting – a win-win.
Simply use a mixture of floor and table lamps for rooms that need a little extra illumination.
Take Time Out
Most of us aren't able to transform an entire room into a home office. Chances are your workspace will sit right alongside your bed, sofa or kitchen table. With the lines between home and work blurring, it's important to take time out from your tasks.
To ensure your work-life balance stays healthy, plan breaks and set alarms for switching off your laptop. Going to another area of your home and having a 10-minute breather is another handy way to unwind.
Décor Tips & Tricks
Creating a comfy home office is only half the battle. You also want it to look stylish too! Since décor can go a long way to helping you feel happy and healthy while working from home, it's worth paying attention to accessories and soft furnishings.
Pick A Theme
From the colour schemes and cushions you choose to the lighting and ornaments you decorate with, your workspace should motivate you as well as reflect your personality.
If you're stuck for inspiration, popular home trends, like Scandinavian décor, are a great place to start. To add a pop of colour, opt for green, yellow or blue accents. Refreshing and bright, these shades are famous for their creative properties.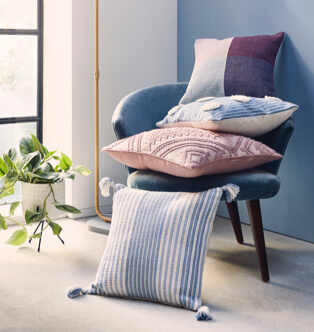 Make It Personal
One of the brilliant things about working from home is that you can make the space your own. To take advantage of this unique situation, don't be shy when it comes to personal touches. Alongside hanging up photos of your nearest and dearest in coordinating photo frames, think about experimenting with quotes and prints to give personality to your home office.
Add Greenery
While you should try to get fresh air at least once a day, you can also bring the outdoors inside by decorating with potted plants. Breathing some life into your space, cacti, cheese plants and snake plants will make your home office a more nurturing and positive space. For an eye-catching display, team brightly coloured plant pots and planters with shelves and side tables.
With their air cleaning properties, plants are the ultimate way to maintain a calm environment – even if your to-do list is as long as your arm!