World Book Day Costumes For Kids
Encouraging your child to bring their favourite characters to life, World Book Day is one of the most exciting events in the school calendar. Falling on Thursday 5th March, it's a good idea to start planning your costume sooner rather than later. After all, you don't want to be searching high and low for outfits the night before!
Thankfully, our fun and affordable kids' World Book Day costumes will let you prep your family's fancy dress in record time.
Roald Dahl Costumes
Roald Dahl's imaginative and hilarious stories have delighted generation after generation of kids. Whether your favourite book is James and the Giant Peach, Fantastic Mr Fox or Matilda, there's no shortage of iconic characters to choose from.
Thanks to the film with its catchy songs and entertaining outfits, Charlie and the Chocolate Factory makes a brilliant World Book Day option. From transforming into Willy Wonka himself to dressing up as the most-wanted Golden Ticket, this theme is full of inventive fancy dress designs.
Unfortunately, unlimited sweets aren't included!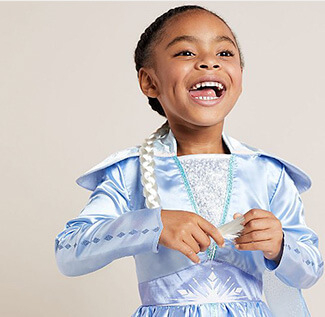 Disney Fancy Dress
Get ready to make way for royalty with a Disney princess or prince outfit. Giving World Book Day the royal treatment, kids will be spoilt for choice picking between timeless characters like Snow White and Cinderella, as well as new favourites like Moana and Tiana.
Perhaps the most popular Disney film around, Frozen is an unbeatable option for friends and siblings wanting to dress up as Elsa and Anna.
Classic Costumes
If you're searching for an instantly recognisable outfit, start by selecting a timeless story. While there's an unlimited number to inspire you, we recommend the fantastical world of Alice in Wonderland. Featuring familiar characters and iconic phrases, this book lets you make the most of big, bold and colourful costumes. From Alice's famous blue dress to the Queen of Hearts' outfit and the Cheshire Cat's wide grin, choosing a classic costume is a guaranteed way to make a statement.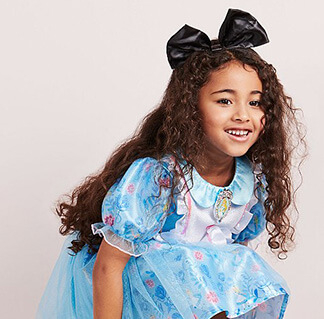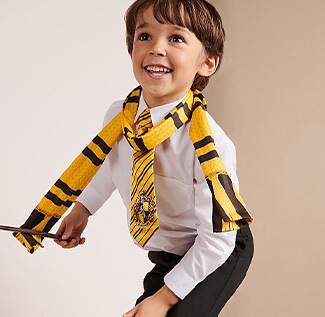 Harry Potter Outfits
Kids who have always dreamed of attending Hogwarts School of Witchcraft and Wizardry can have their chance by wearing magical Harry Potter costumes.
Whether they're team Gryffindor or team Slytherin, a Dumbledore in training or a budding McGonagall, Harry Potter fancy dress will let them bewitch their way to an enchanting World Book Day.
World Book Day Costumes For Babies
You can never start too early when it comes to teaching little ones about the joys of reading. As well as involving your child in storytime, dressing them up in baby fancy dress is a lovely way to celebrate the occasion.
Super-soft and comfortable, you can introduce your kids to the power of storytelling with a Peter Rabbit costume or a Toy Story outfit. Adorable!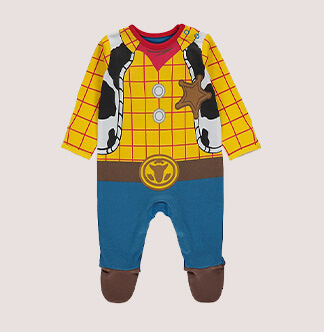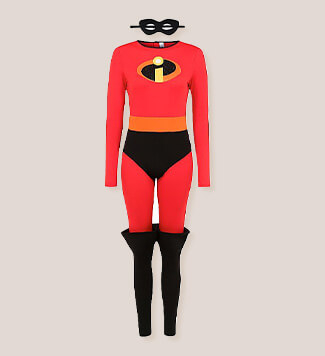 World Book Day Costumes For Adults
World Book Day isn't just for kids! If you're worried about missing out on all the action, there are plenty of ways to get creative with costumes and clothing.
Luckily, you don't need to push the boat out to show your support. Joining in with World Book Day can be as simple as wearing a colourful character T-shirt. Or, if you're as fond of fancy dress as your little ones, embrace (and save!) the day with a superhero costume.
Storytime Snuggles
While it can be exciting to get dressed up in full fancy dress, World Book Day doesn't need to mean a wizarding cape or a onesie. Instead, you can champion reading with our themed World Book Day clothing.
From Lion King T-shirts and Star Wars styles to Peppa Pig dresses, the options are endless!
Fortunately, the fun doesn't need to stop at the end of the school day. For a cosy bedtime story, kids can cuddle up in character pyjamas inspired by Harry Potter, Disney and Where's Wally.