Going hand-in-hand with mince pies, baubles and festive films, Christmas pyjamas are a must for 2020. Making the long winter nights more magical, seasonal PJs are also a great opportunity to create a new tradition.
Whether you're searching for classic checked nightwear, family Christmas pyjamas or slogan styles, our guide brings you ALL the snuggle points! From playful coordinating sets for families and friends, you'll have no trouble getting snug with our rundown of the best Christmas pyjamas.
Why Wear Christmas Pyjamas?
If you can't get enough of Christmas jumpers and want to take your Christmas clothing collection up a level, festive PJs are the next step in getting you Christmas-countdown-ready. Discover more reasons to try out the trend below.
A Cosy Choice
Christmas is all about getting cosy. Whether you're decorating your tree, tucking into seasonal snacks or waiting for Father Christmas, you'll want comfy clothing that's suitable for home-based activities.
Luckily, Christmas pyjamas are the perfect pick thanks to their insulating design, elasticated waistbands and festive flair.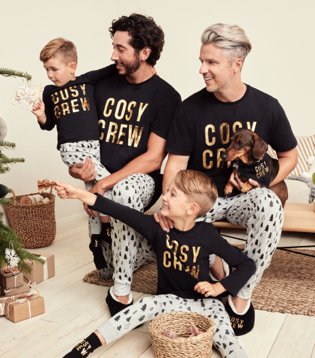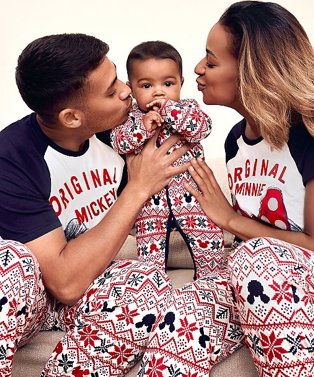 A Seasonal Staple
Not only are themed pyjamas ideal for Christmas Eve and Christmas morning, but they can also be worn throughout the whole festive period. With this in mind, you'll want to get yours ready as soon as possible!
Festive Squad Goals
Nothing says squad goals like matching PJs. From fashionable fair isle pyjamas and fleece onesies to novelty designs, coordinated Christmas nightwear will help you and your household look the part this season.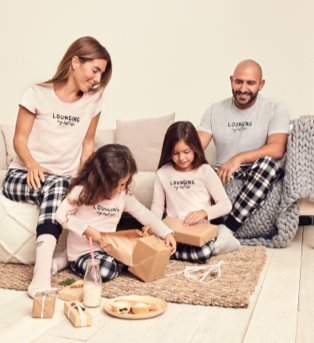 The Best Christmas Pyjamas
Get ready to kick back, relax and grab a mince pie with our rundown of the best Christmas pyjamas.
1. Family Christmas Pyjamas
If you're searching for a new festive tradition, look no further than family Christmas pyjamas. With pyjama sets for parents, kids and babies, matching PJs are a brilliant way to inspire some family bonding. Cheesy family photos here you come!
Don't forget to deck your bedroom with matching soft furnishings, including printed hot water bottles and cosy Christmas bedding to create a snug sleeping set-up. The furriest member of the family can also join in the fun by wearing a cute Christmas dog bandana.
2. Matching Christmas Pyjamas
You can't go wrong with matching Christmas pyjamas. Giving your evening routine a merry twist, you can twin with housemates by wearing 'bestie' slogan PJ sets.
Make sure your entire nightwear ensemble is on point with a few extra accessories. Don't forget fleece dressing gowns, faux fur trim slippers and fluffy socks to make this Christmas the cosiest one yet.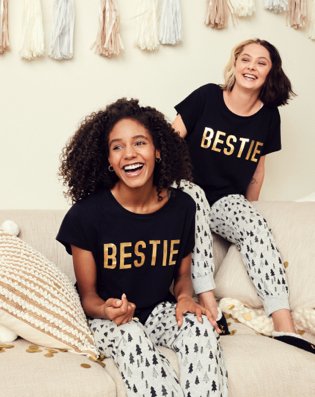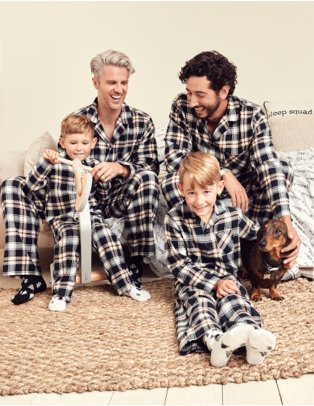 3. Traditional Christmas Pyjamas
From decorating your Christmas tree with homemade baubles to using the same Christmas biscuit recipe year after year, December is full of special family tradition. To add some traditional charm to your nightwear, opt for checked pyjama sets. With a timeless print and classic appeal, you'll be cuddling up in these PJs for many Christmases to come.
For festive film nights and board game tournaments, match your pyjamas to your décor with checked Christmas cushions and throws.
4. Subtle & Stylish Loungewear
If you love spending the whole of Christmas day in your pyjamas (and why not!), you're going to need a stylish set to see you through multiple activities. For a subtle alternative to Christmas prints and slogans, choose loungewear in textured fabrics such as velour and ribbed cotton.
Bringing a laid-back and fashionable vibe to your festivities, loungewear will ensure you and your family look fabulous while you celebrate.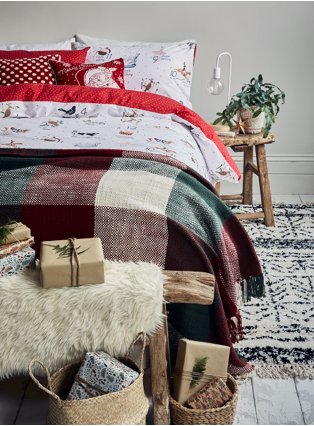 5. Cosy Christmas Bedding
Themed pyjamas aren't the only way to get into the Christmas spirit. You can also add a festive touch to your bedroom with Christmas bedding, including reversible duvet covers, Nordic-inspired sets and printed kids' bedding.
Christmas isn't Christmas without your favourite festive fragrances, so make sure you fill your bedroom with Christmas candles, potpourri and reed diffusers for that iconic seasonal scent. With a bedroom this snug, falling asleep on Christmas Eve will be a breeze!