Here at George, we're proud to make school uniform that's not only fab quality, but also designed to suit a variety of needs.
Our collection includes a range of fit solutions, including slim fit, longer length and plus fit school uniforms.
We've also designed an exclusive School Easy on Easy Wear range featuring adaptive kids' uniform to support sensory-sensitive needs and independent dressing.
Scroll our handy guide to discover the best girls' school uniform and boys' school uniform to keep your child feeling comfortable and confident.
Do I Size Up My Child's School Uniform?
A great way to choose the right sized school uniform for your child is by taking note of their height, chest and waist measurements. Once you've found a suitable size, get maximum wear out of their uniform by going up one size to allow room for growth. One thing to remember is to double check the fit is comfortable and the uniform doesn't look too oversized.
So, the short and simple answer is YES – but don't go too wild!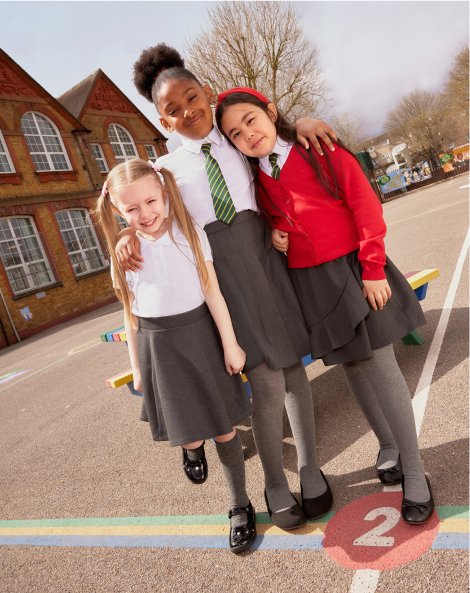 George's Easy On Easy Wear
If you're looking for quality adaptive school uniform, you've come to the right place! Making our clothing range inclusive is a top priority for us, and our specially designed School Easy on Easy Wear is created with your child's needs in mind.
Our kids' adaptive clothing features wider neck openings, easy fastenings and soft threads to support independent dressing and sensory-sensitive needs.
Scroll sensory clothing for school, including school polo shirts, school trousers and traditional gingham dresses.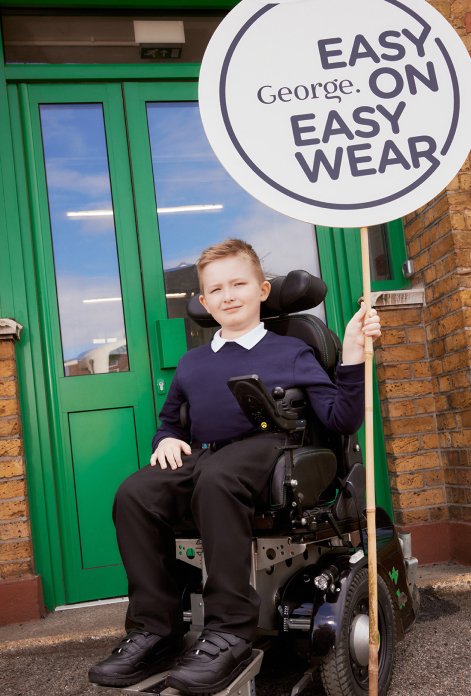 Longer Length School Trousers
Start their school day off strong with boys' longer length and girls' longer length trousers. They feature elastic waistbands and a longer leg length than our regular school trousers. Plenty of room for movement and growth = smiles all-round.
Take your pick of classic black school trousers or explore navy and grey options available in great-value multipacks.
Add some sparkle to their school collection and look out for smart jersey trousers with charm detailing – a gold star from us!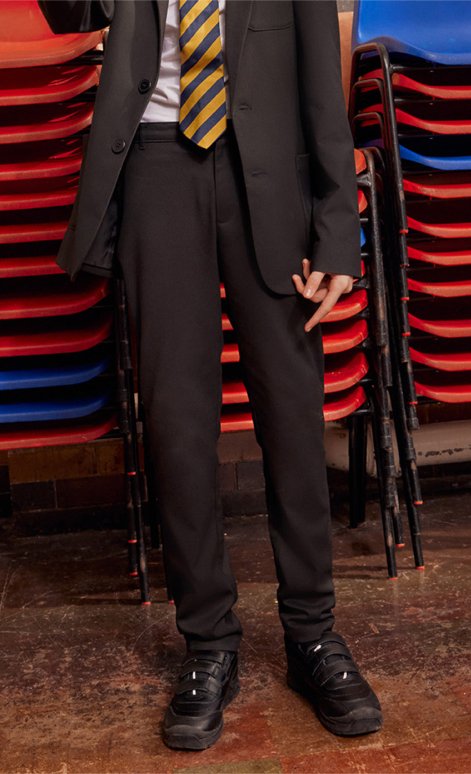 Smart Plus Size School Uniform
Keep kids comfy all day long with our selection of boys' plus fit and girls' plus fit uniforms. Find their dream fit with our smart plus size school uniform, including specially designed flexible waistbands and larger cuts.
Whether you're searching for long-sleeve school shirts, school dresses or trousers, there's a style for all here at George. Super-comfy and excellent quality, our range features sizes between 3 – 15 years, so you can find an option whatever stage your scholar is at.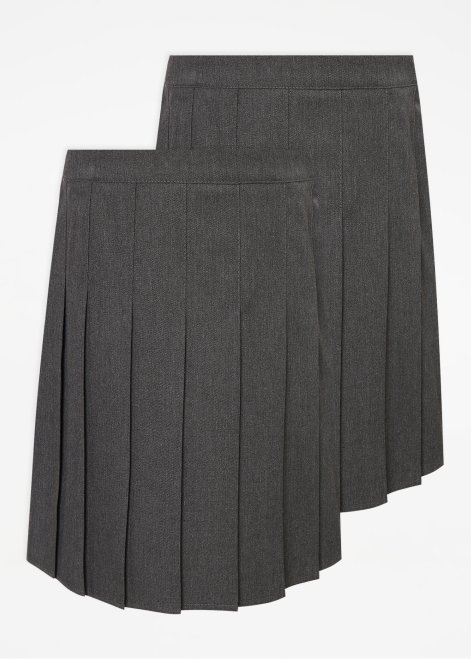 Comfy Slim Fit School Uniform
Upgrade their collection in time for the new term with our boys' slim fit and girls' slim fit school clothing. Grab a smart set of crisp white or blue school shirts that are easy to iron and have a reduced chest size compared to regular fit options. With simple button fastenings and innovative 'stay white' technology, your kids' uniform will look fresh for longer thanks to George's school clothing collection.
Don't forget to check out slim fit school trousers featuring a reduced waist and thigh measurement. Choose from slim leg, skinny leg and high-waist styles.
Perfect Preschool Uniform
Make the start of their school journey extra special with a photowall-worthy school uniform for children between 2 and 5 years. Whether they feel most comfortable in pinafore dresses or formal school trousers, our quality collection will keep them smiling through busy days of learning and fun.
Kit out their collection with all the essentials, including school sweatshirts, cardigans, socks and tights. Don't forget a handy school backpack to store all their supplies. Hey Duggee fans – we've got something for you…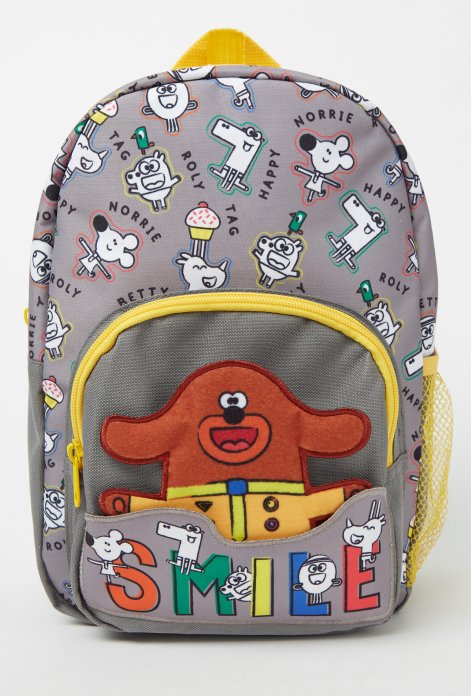 Essential Secondary School Clothing
Secondary school students are usually busy preparing for exams, so take the pressure off by getting their school uniform ready before the start of the new academic year.
Depending on uniform policy and school colours, your child may need to follow specific requirements, so be sure to check these first.
Our collection features all the colours of the rainbow – there's navy, purple, burgundy, green and plenty more colourful school uniform to choose from.
Finish off their school uniform with a pair of durable school shoes or trainers to guarantee they start the term off on the right foot!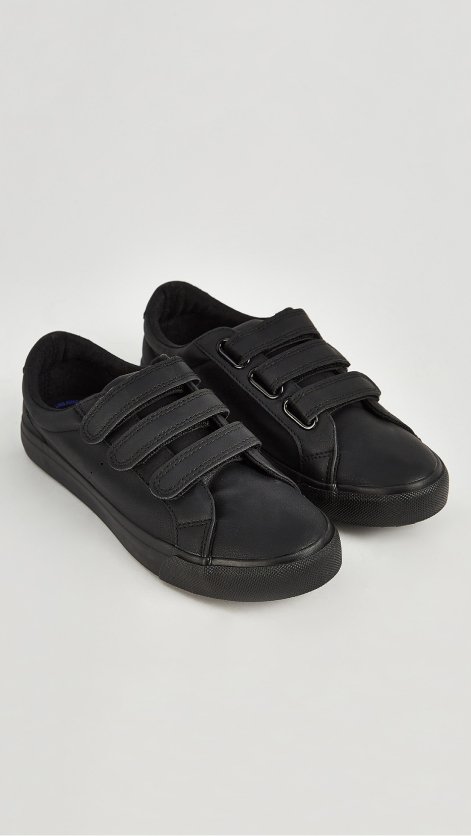 Smart & Stylish Sixth Form Outfits
Students will be excited to embrace their own style at the start of their new chapter. Our range of sixth form outfits strikes the perfect balance between smart and stylish, featuring endless options for every day of the week.
From empowering blazers and crisp shirts to smart linen trousers, there's a cool look to suit any smart-casual dress code.
With 'fits so stylish, students will feel ready to be the very best version of themselves – whatever their timetable has in store for them.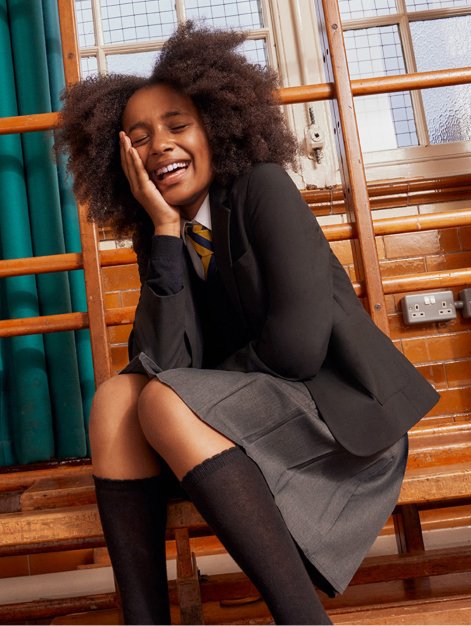 Practical PE Kit
No school uniform is complete without a comfy and long-lasting PE kit. Fill up their PE bag with those essential items including a t-shirt, hoodie, shorts or joggers and a pair of durable school trainers.
Give our boys' sportswear and girls' PE kits collections a quick visit for top-quality picks they'll love.
PE lessons are always full of adventure, so kitted-out kids can look forward to participating in everything from team sports to athletics!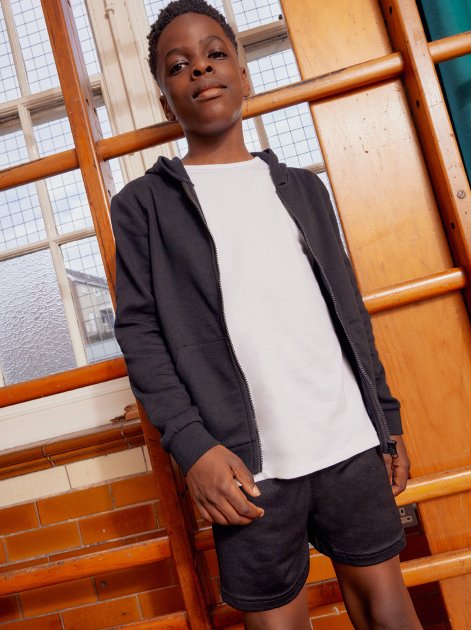 Whatever Weather School Uniform
Whatever the weather, make sure your child stays warm with plenty of school layers!
Hats, scarves, gloves – you name it, we've got everything your budding learner will need to stay snug on the walk to school and during break times.
Say goodbye to Jack Frost and wrap them up in insulating layers like school jumpers, cardigans and vests. They'll be toasty and living their best lives in even the chilliest conditions – happy days!