Whether you're decorating your baby's nursery from scratch or adding a few nursery accessories to brighten up their existing growing space, create a cute and colourful environment that your little one will adore.
From baby blankets and baby bedding to character rugs and colourful curtains, we'll help you build a bright and beautiful space that works perfectly for sleep and play!
Hang Colourful Art
The simplest way to bring colour into a room? Add some vibrant wall décor! Colourful wall stickers are simple to pop up, safe to hang and easy to remove when you're ready for a change.
Look out for eye-catching slogan prints, framed animal and character art or cute mirrors to reflect light around the room. Colourful shelves and hooks are also ideal for displaying baby books and accessories.
Always remember to secure new nursery décor pieces as directed and keep them out of your little ones reach.
Add Bright Blankets
Sometimes, super simple nursery décor ideas are THE best ones – like bright and beautiful baby blankets! You'll need these anyway, so why not add a pop of colour with the most cheerful styles you can find?
Browse block-coloured designs to match your existing nursery accessories, or, for something a little more unique and playful, choose cute printed blankets.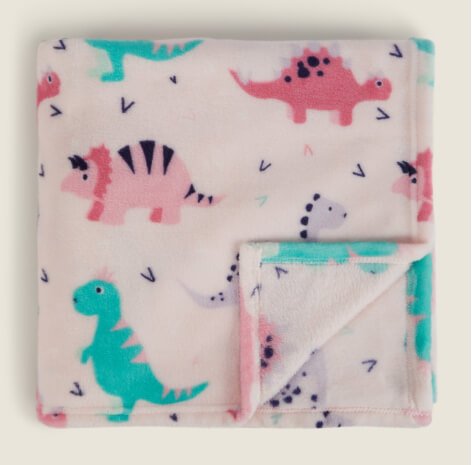 Create A Rainbow Nursery
Looking for nursery decorating ideas with ultimate colour pop? Create a rainbow nursery! Start with neutral walls then make it all about the colourful nursery accessories, or go all out with rainbow print wallpaper. We're thinking fun framed pics, super-soft rugs, and plenty of snug baby blankets in all different colours.
For a Pinterest-worthy rainbow effect, pick three or four base colours. Choose contrasting hues for a super playful vibe, or create a calmer space with a few different shades of the same colour.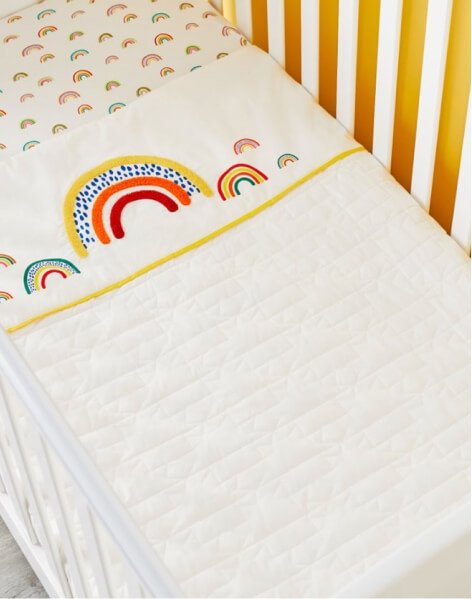 Paint The Walls
Even if your little dreamer's day is mainly made up of sleeping, it won't be long until their nursery becomes a play space too! With this in mind, creating a vibrant colour scheme that sparks joy and inspires their imagination is always a bright idea.
Try a sunshine yellow accent wall to contrast neutral tones, or go for green to bring the outside in – no matter the season! The options are endless, and since your baby doesn't have a favourite colour yet – it's the perfect opportunity to get creative with your home décor.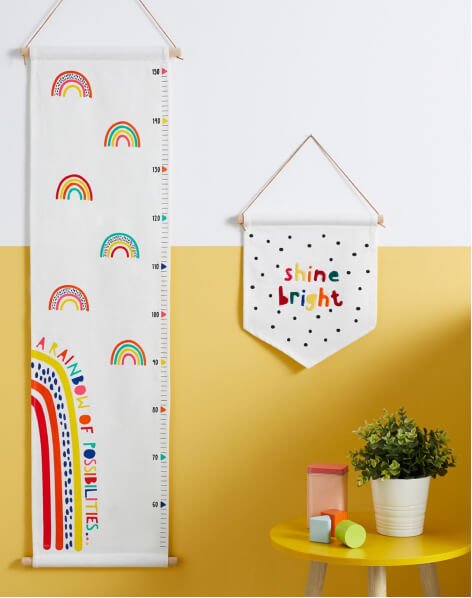 Colourful Curtains And Accessories
Whether you're picking super bright walls or keeping things neutral, accessorising your baby's nursery with those lively details will transform the space from plain and simple to uniquely special.
Our adorable range of kids' curtains has everything you need to frame windows beautifully, and will make their space instantly cosier for nap times!
Colour-pop baby mobiles will keep your baby entertained while bringing cuteness points to their cot. As for the floor, a fun rug or runner will define a play area and provide your little one with a soft play space – happy days!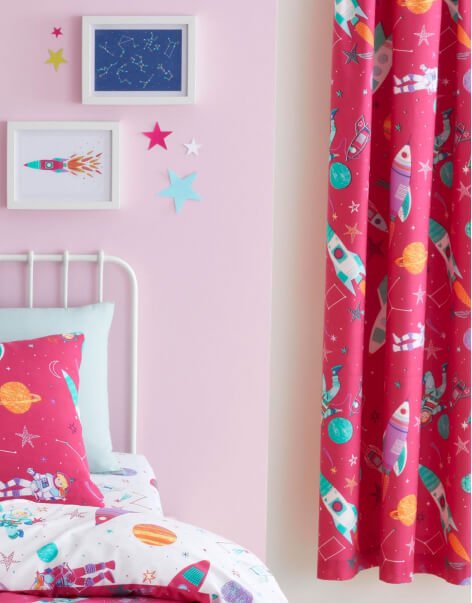 Beautiful Baby Bedding
Since newborns can snooze for up to 18 hours a day (between all the feeds and fuss), making their cot the main focus of the nursery is always a wise move!
Here at George, we have plenty of sweet baby bedding to create a peaceful sleep space – from the cutest printed baby sleeping bags to colourful sheets, full of character.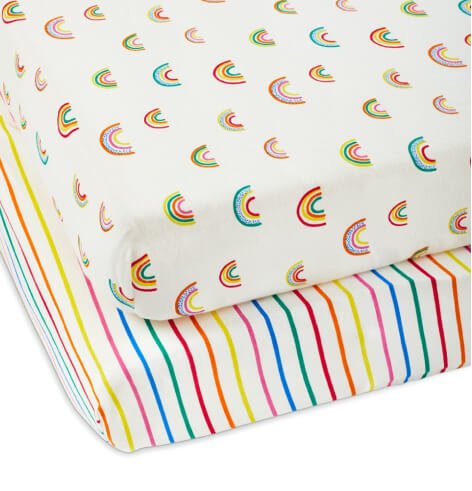 Display Cute Outfits
Bring colour to your nursery in creative style by hanging your little ones best and brightest outfits on a wooden clothes rack.
Show off their darling printed items and arrange them in colour order to enjoy all the colours of the rainbow. It's an oh-so-sweet idea – even if it lasts all of five minutes once your little one has arrived!
This open storage solution is super convenient for busy mums and dads. Say goodbye to fiddling with drawers or rifling through storage boxes – simply grab what you need for outfit changes throughout the day.
The best part? You'll be able to keep track of the current clothing your little one has and what they need as they grow!