Welcome warm weather and sunny skies into your home with our summer makeover guide. Featuring bright, breezy and budget-friendly ideas for every room in your house, giving your space that new season feeling is simple with our décor inspiration.
Summer Décor Style Tips
From the key colour schemes and summery fabrics to seasonal candles, the following tips will inject some summer style into your décor.
A New Perspective
When you've been spending more time than usual indoors, it can be tricky to imagine your home looking or feeling any different. To mix things up and help you see it in a new light, try to think of your space as a holiday home.
As well as opening all your doors and windows, pull back your curtains to breathe some freshness into your rooms. Next, use home storage to tidy away any items that look dark, gloomy or fussy, like heavy throws. Revitalising your space and giving you a different perspective, these quick steps are a brilliant way to begin your summer makeover.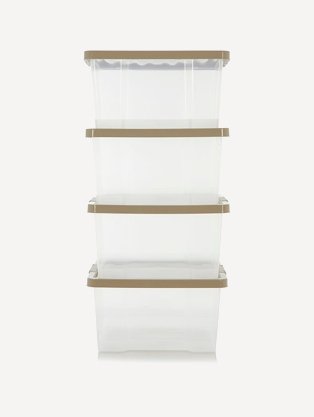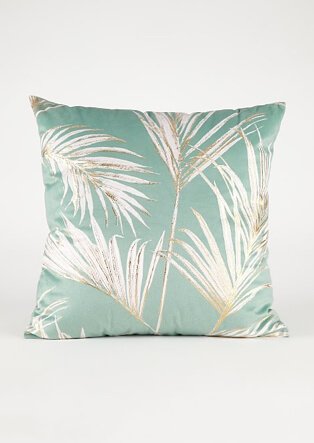 Key Colours
Summer is known for its vibrant colour palette, whether that's the aqua of the sky, the turquoise of the sea or the vivid green of the grass. While it's tempting to incorporate every bold shade into your home, it's more effective to focus on one or two tones.
For the perfect seasonal combination, concentrate on pairing contrasting colours together, like poppy red and sage green cushions or cornflower blue and pebble grey bedding. Giving your home the right balance between standout shades and complementary colours, this tactic will stop your décor from becoming overwhelming.
Seasonal Fabrics
Just like you have a winter wardrobe full of velvet and a summer wardrobe bursting with cotton, the same rules apply to your home. Instead of snuggling up in chenille and wool throws, you should opt for lighter fabrics for a contemporary and season-appropriate finish. Think cotton bedding, easy-care polycotton duvet covers and home accessories in natural materials like raffia.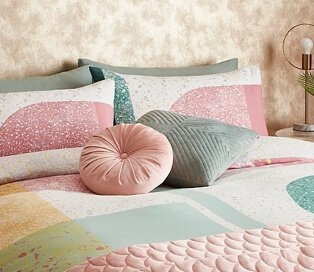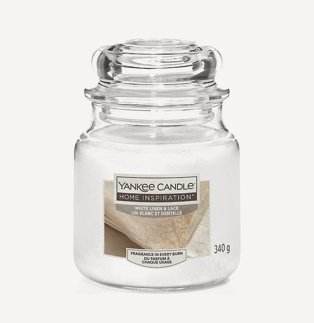 Summer Scents
Giving your home a summer makeover is about more than just your décor. Evoking memories and inspiring moods, smell is one of our most powerful senses. To bring the welcoming scent of summer into your home, accessorise with scented candles.
While clean, citrusy notes will invoke sunny afternoons on your patio, scents like cut grass and white linen will ensure your home feels fresh all day long.
Room-By-Room
Trying to update your whole home at once can be a time-consuming task. Instead, take things room-by-room to make redecorating more manageable. As well as helping you stick to a budget, you can also have fun experimenting with different styles along the way.
A Bright & Breezy Bedroom
It can be easy to get carried away when you're planning a summer makeover and start with big, expensive changes like furniture. However, it's often the small things that have the most impact on your space, like bedding. Instantly transforming your bedroom, new bedding is a simple yet effective way of creating real change.
For a crisp summer vibe, team white cotton duvet covers with colour-pop cushions in summery shades of blue. We also recommend opting for duvets with a tog rating between 4 and 10 to keep you cool when the weather heats up.
Minimalist and brightening accessories, like artificial plants, are another way to add maximum impact with minimum fuss.
A Light Living Room
If there's one thing that's going to make the difference between a summery living room and a gloomy space, it's lighting. Not only is natural lighting an essential part of summer décor, but it can also help increase your serotonin levels and put you in a positive mood.
If you're short on natural light or your room feels cramped, use a mirror to reflect light and make the most of space. Choosing white, cream and grey soft furnishings, like curtains and rugs, will similarly lighten up your living room.
Bathroom
Bathrooms often get forgotten about when it comes to décor makeovers. However, thanks to their small size, giving them an update is easier than you might think. For a stress-free way to make your bathroom summer-ready, switch your usual shower curtain for an eye-catching design. Anything featuring rich, tropical greens is a winner for Summer 2020! Matching your towels is another effortless way to pick up extra style points.