Keeping up an exercise routine (or starting one!) can be tricky when you're working from home. However, since exercise is key to improving both your mindset and your overall wellbeing, it's worth dedicating even just 20 minutes a day to get your heart rate pumping.
Whether you're a fitness pro or an exercise novice, there are plenty of home workouts to suit your ability. Thankfully, you don't need a home gym or a stack of protein powder to make the most of them – just some sportswear and a little creativity!
Where Should I Work Out At Home?
It's not always easy to find a place to start your home workout – especially when you're short on space. If you don't have a garden but you still want to stick to a routine, it's time to get imaginative. From pushing back your sofa and coffee table to moving your dining room chairs, re-arranging your furniture will help open up your home for cardio and weights. Remember, you don't need to set aside your entire house. Just allow yourself enough room to do a star jump and you'll be good to go.
Those lucky enough to have a garden can enjoy the extra space by arranging circuits and a variety of stations. With the sun finally starting to shine, a workout outdoors can be a wonderful way to get some mood-boosting vitamin D.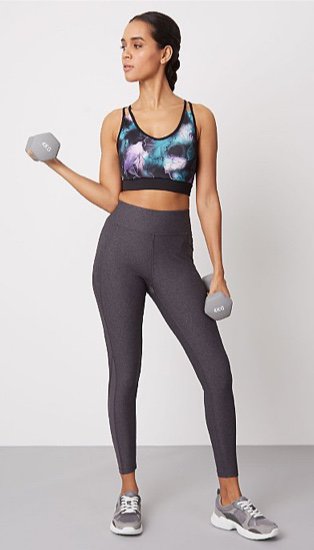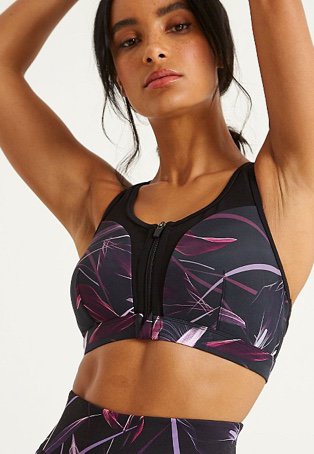 Look The Part
You may not be hitting the gym or going to a class, but that doesn't mean you can't look the part. While you can exercise in just about any comfy clothing (even your pyjamas!), getting kitted out in full fitness gear can help with your motivation levels.
Another handy trick is planning your sportswear around your activity. For example, if you're keen on doing laps in the garden, make sure your feet are well supported in a pair of running trainers. Or, if you can't get enough of Pilates, slip into leggings and form-fitting sports tops to perfect your plank in style. Doing a virtual Zumba session in your living room? Jump into joggers and a sports bra.
Quick & Easy Home Workouts
No matter your fitness or flexibility, we can all benefit from regular exercise. Instead of going stir crazy on your sofa, get up and moving with our quick and easy home workout ideas. From yoga and makeshift dumbbells to alternative exercises, we've got everything you need to work up a sweat.
Embrace Your Inner Yogi
Relaxing and invigorating at the same time, yoga is the ideal home exercise to improve your mental wellbeing. Encouraging you to focus on your breathing and allowing self-reflection, beginning your morning with yoga can ensure that every day is a positive one.
As well as wearing super-soft and stretchy sportswear, spend some time finding out what kind of home yoga works for you. While subscribing to yoga tutorials may be the best tactic for some, others might prefer to practise mindfulness with a soothing soundtrack. Post yoga glow here you come!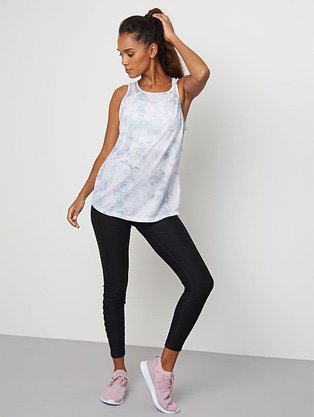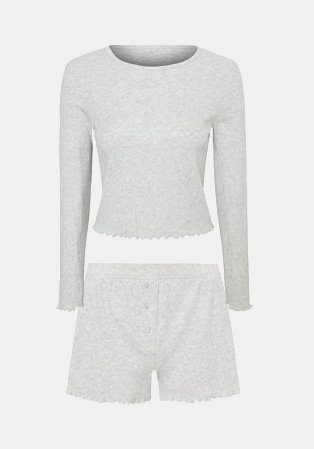 Make Your Own Weights
Strength building is a crucial part of fitness for all ages. But, without loads of snazzy gym gear to pick and choose from, it can be difficult to know where to begin. Fortunately, you don't need to invest in expensive weights or machines. Instead, get creative with bits and bobs lying around your home.
From bicep curling water bottles to deadlifting filled shopping bags and squatting paint tins, as long as you can hold the item safely and securely, you can add it into your weight training session. To look total gym goals without even leaving the house, flex, curl and squat wearing a grey ribbed loungewear set.
Organise A Dance Off
Many of us love exercising because of the social element it includes. Although home workouts can be convenient, they can get a little lonely if you're used to playing netball or football with friends.
To get both your cardio and friendship fix in one go, try arranging a virtual dance session. Simply agree on an online class and set up a video call with your friends to dance and chat to the beat. Not only is this fun activity a brilliant way to catch up with your loved ones, but the dancing endorphins will let you two-step your worries away.
You can even coordinate your clothing to feel like a proper dance troupe. We recommend brightly coloured matching sports tops, sports bottoms and accessories.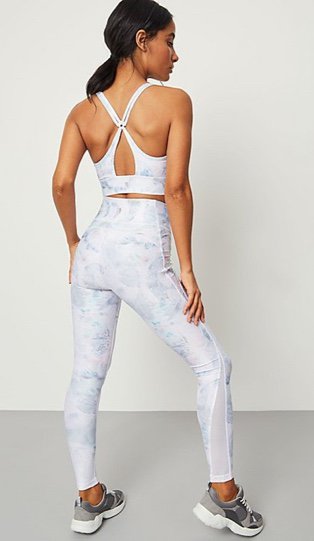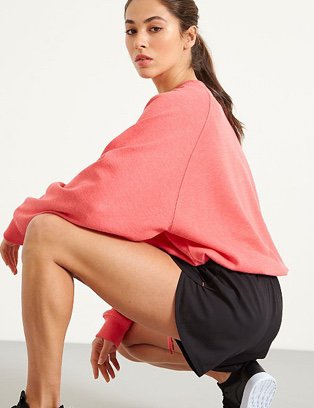 Try Calorie-Burning Cleaning
If you're bored of cleaning and tidying, the good news is that your weekly chores can be turned into an effective workout. Unfortunately, this means you have even less of an excuse to avoid them!
To transform vacuum cleaning into a physical as well as a mental challenge, try lunging as you hoover. If you're re-organising or clearing out a room, make an effort to squat and lift to put your glute and quad muscles through their paces. This way you can ensure your home sparkles and shines while burning calories at the same time – a win-win!