Stylish and bold, puff-sleeves are the statement detail of the season. Whether you want to update your denim with a puff-sleeve top or elevate your look with a puff-sleeve jumper, this playful trend is the ultimate way to refresh your wardrobe.
Even so, we know that wearing puff-sleeves can feel a little daunting at first – especially if you're more familiar with sleek silhouettes. Thankfully, the trend is surprisingly easy to pull off with a few tips and tricks.
From transforming your basics and keeping things neutral to creating a balanced outfit, discover how to perfect the puff-sleeve trend with our guide.
Why Wear Puff-Sleeves?
Originally worn during the Renaissance before becoming a fashion favourite in the 80s, puff-sleeves are one of this year's most popular trends. If you're not sure whether the look is for you, we've got plenty of reasons to add puff-sleeves into your weekly rotation.
1. Maximum Style, Minimum Fuss
Searching for separates that offer maximum style with minimum fuss? Puff-sleeves will be your new best friend. With their larger than life design, puff-sleeves instantly give any ensemble an eye-catching edge.
For an easy-to-wear look that will see you through the weekend, step out in a puff-sleeved dress. Paired with ankle boots and a longline coat, this chic outfit is ideal for autumn walks.
2. Transform Your Basics
With their striking shape, puff-sleeves are a brilliant way to give your everyday basics a makeover. All it takes to transform staples such as shirts and cardigans into scene-stealing items is to pick designs with subtle puff or balloon-sleeves.
Team them with straight jeans and trainers for a casual combo or dress them up heeled Chelsea boots and a formal coat.
3. Video Call Faves
Finding the perfect clothing for video calls is often easier said than done. While you want to look fashionable, you also need a get-up that's comfortable enough to wear at home. This is where puff-sleeved layers come to the rescue.
Thanks to their statement silhouette, puff-sleeve tops are the ultimate pick for online get-togethers and video meetings. Keep the rest of your outfit relaxed with leggings, joggers or even pyjama bottoms for that chilled home-based vibe.
Puff-Sleeve Style Tips
From refreshing your knitwear to creating understated looks, check out how to style puff-sleeves below.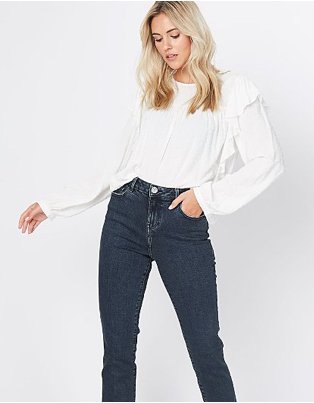 Start Small
If you've never worn puff-sleeves before, introduce yourself to the trend by opting for neutral pieces in black, beige or white. A simple yet stylish choice, understated colours will help you feel more comfortable and confident when trialling the look for the first time. You can also keep an eye out for separates with subtle sleeves for a minimalist take on the trend.
Next stop: vibrant shades, busy patterns and large balloon-sleeves!
Elevate Your Everyday
It's easy to fall into the habit of wearing the same outfits day-in, day-out. For an everyday look that's anything but ordinary, team your denim with a puff-sleeve top and trainers. If you're teaming denim why not give your look a new-season twist by opting for straight-leg or wide-leg jeans.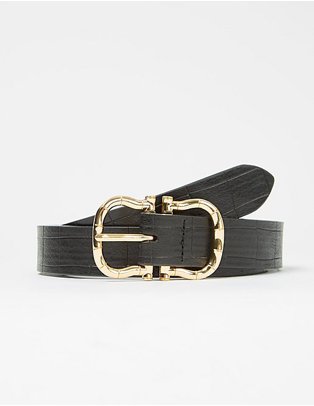 Balance Your Outfit
With their bold design, puff- sleeves run the risk of overpowering the rest of your outfit. While we love making the trend a key feature, often laid-back occasions call for a more balanced combo.
Strike a balance by tucking in your top, picking a peplum design or using a statement belt to create detail which compliments bold sleeves.
Refresh Your Knitwear
If you think that puff-sleeves are impossible to layer, think again. Simply opt for puff-sleeve jumpers and cardigans to incorporate the trend into your knitwear collection. Bringing a dose of drama to your cold-weather wardrobe, layering season has never been so striking.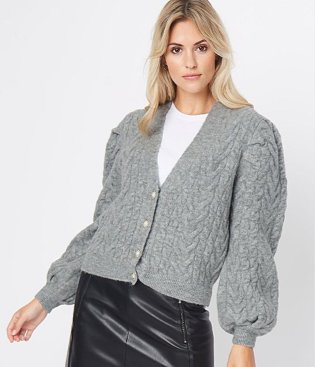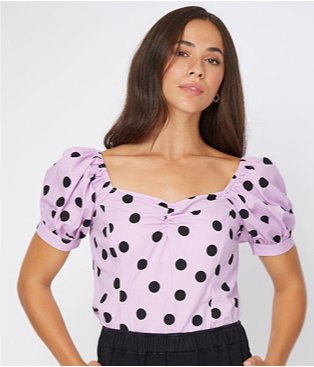 Be Bold
There's no denying that puff-sleeves are bold, but that's part of their charm! If you're feeling brave, double up on the statement pieces by choosing printed and patterned designs. Taking your look to the next level, you can mix and match with different prints to give your personal style a playful finish.