Timeless and effortless to wear, denim is a wardrobe staple. Whether it's a pair of jeans, a denim skirt or a denim jacket, we all have our favourite go-to pieces. Even so, wearing denim can be tricky to get right in summer. Black skinny jeans on a humid day? No, thank you!
To style your denim without breaking a sweat, follow our guide. Featuring the very best cuts, washes and items for summer, our tips will help you wear denim like a pro all season long.
Choosing The Right Summer Denim Look For You
Feeling comfortable and cool in your summer denim all comes down to picking the right cut and shades:
Try Relaxed Cuts
While skinny jeans will always hold a special place in our hearts, the summer months call for jeans in a looser cut. From straight jeans to boyfriend jeans and cropped jeans and wide leg styles, there are plenty of breathable options to swap your skinny jeans for.
For the perfect outfit for picnics in the park and outdoor adventures, pair high-rise straight jeans with a plain white tee and trainers. As well as being simple and stylish, this look can easily be updated for autumn with a cosy knitted jumper.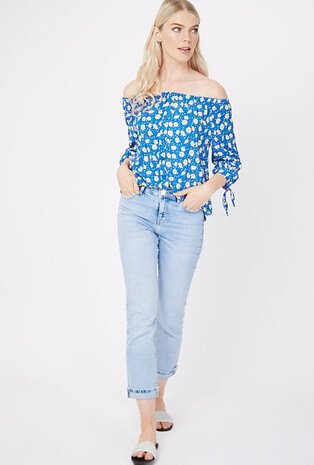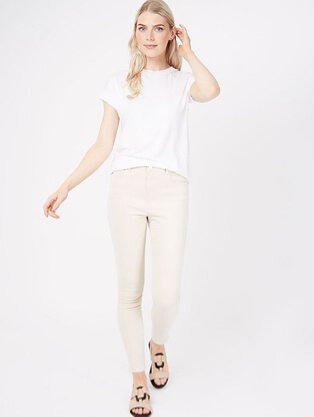 Opt for Seasonal Shades
Black and indigo are some of the most popular denim washes. However, dark colours can sometimes seem out of place during warmer weather. Instead, mix things up by opting for denim in seasonal pale blue, white and vintage-style stone washes.
Reflecting heat rather than absorbing it, these shades will ensure your denim looks and feels suitable for summer. Just watch out for any ketchup stains at BBQs!
Denim Inspiration Beyond Jeans
When it comes to denim, it's tempting to reach for traditional items like jeans and shorts. Although these dependable pieces deserve a spot in all summer wardrobes, there's no shortage of inspiration if you're after something a little different.
From pinafore dresses, co-ords and denim tops to lightweight denim midi dresses and skirts, have fun experimenting with alternative denim designs to keep your rotation feeling fresh.
Summer Denim Looks Sorted
Get ready to tick off 2020's summer denim dress code with our easy, breezy outfit combos:
The Double Denim Get-Up
If you thought that double denim was only on-trend in the 90s, think again. While the look can seem intimidating, it's a total scene-stealer when done right.
The trick to mastering double denim is to opt for coordinating colours. Giving your outfit structure, wearing matching styles also ensures the trend looks intentional rather than accidental! Whether you pair a denim top with denim shorts or go for a matching jacket and skirt co-ord, remember – the trick is to wear your chosen pieces with confidence.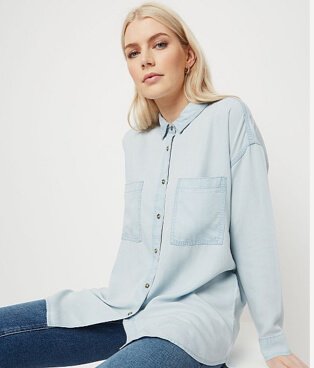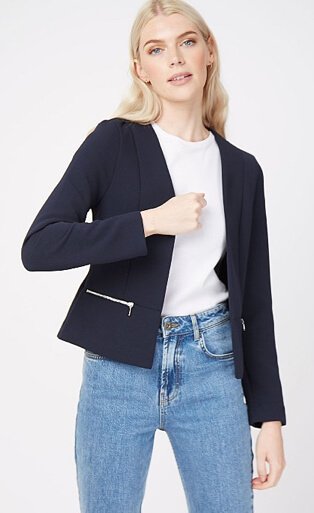 The Smart-Casual Look
Thanks to its casual vibe, denim is ideal for summer activities like BBQs, picnics and bike rides. However, it can be difficult to dress up your look – especially if you're avoiding dark denim due to the heat!
If you're commuting into the office or you want to smarten up your WFH fashion, we recommend teaming denim with a lightweight blazer. Adding a sophisticated touch, a neutral-toned blazer is a simple yet effective way of making sure your denim is appropriate for the office.
The After-Dark Layer
As hot as summer days can be (fingers crossed!), the temperature can drop quickly at night. This is where a classic denim jacket comes into play. From retro oversized jackets and boxy denim jackets to versatile dark wash and contrast stitch designs, denim jackets are the ultimate seasonal layer for your summer dresses, jumpsuits and playsuits.