We can't wait to enjoy weddings again with friends and family, but we get it – picking the perfect wedding guest outfit can seem impossible! With so many rules to follow (no white, no black, no denim), finding a dress that looks stylish and feels original can be far from easy. None of us want to invest in an expensive outfit only to wear it once!
This is where jumpsuits come into play. Sleek and stylish, jumpsuits are the wedding guest dress alternative you've been searching for. Scroll down to discover how to style them for any wedding dress code.
Why Wear A Jumpsuit To A Wedding?
Wondering whether you can wear a jumpsuit to a wedding? Absolutely! Modern and fresh, jumpsuits make a welcome change to more traditional looks. If you need a little convincing, we've got plenty of reasons why you should make a jumpsuit your next wedding guest outfit.
Something A Little Different
We all have our go-to occasion dress, whether it's a classic wrap, a floral midi or a tiered design. While we couldn't live without them (so dependable!), it can be fun to mix up the wedding dress code with something a little different. Elegant yet original, jumpsuits are a stylish alternative. Following the crowd? Not us!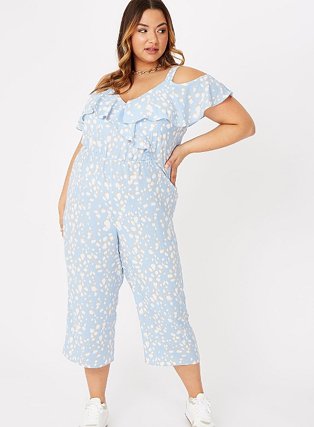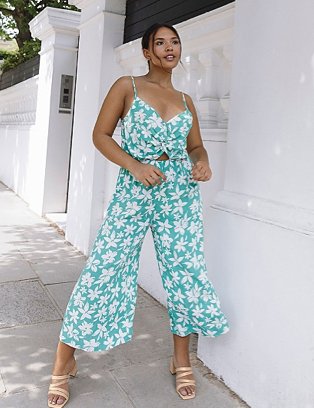 The Natural Next Step
If you live in jeans, trousers or joggers, a jumpsuit is the natural next step for smart occasions. Be a trendsetter in a wide leg jumpsuit or master effortless wedding dressing with a printed culotte design. Thanks to their unconventional vibe, you're also less likely to spot another guest in the same outfit – phew!
Wear Again Style
All-in-ones are super-easy to work into your wardrobe year-round, making them a sustainable and versatile choice. Style a belted jumpsuit with flat sandals for sunny Sunday brunches and layer it with long sleeve tees and cardigans when the temperature starts to drop. We're all about making the most of our favourite pieces!
How To Style Jumpsuits For A Wedding
From choosing the right cut to picking the perfect shoes, our jumpsuit style tips will put you on the best-dressed guest list this wedding season.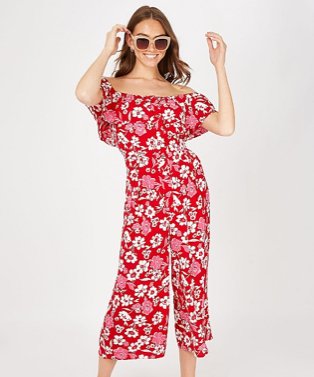 1.Choose Your Cut
Whether you prefer wrap all-in-ones, belted designs or ruffles and embellishments, there's a jumpsuit out there for everyone. This year, we can't get enough of culotte jumpsuits. With an easy-breezy summer shape, they're the ultimate pick for the dance floor!
2. Pick Floral Patterns & Prints
When it comes to wedding-worthy patterns and prints, florals are a guaranteed hit for summer soirées. Add a little sunshine to your look with a ditsy floral jumpsuit or bring the tropics to a midsummer celebration with tropical prints. Complete your outfit with neutral-toned heels and accessories for a winning wedding combo.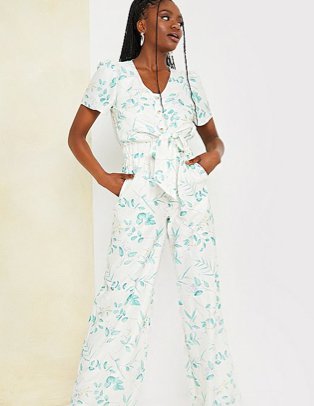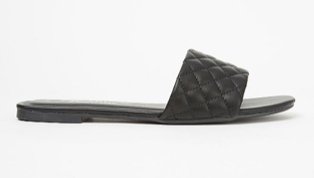 3. Make The Most Of Details
Details can make all the difference to your wedding guest outfit. Give your summer jumpsuit a little glamour with a gold-effect buckle belt or keep the compliments coming with quilted sandals or embroidered ballet shoes.
4. Explore Warm Neutrals
You might not be able to wear white without the bride's permission, but you can still embrace subtle shades. Instead of ivory or cream, explore warm neutrals like camel, sand and soft grey.
For an on-trend choice, team a camel-toned jumpsuit with understated shoes and accessories. The best part? Neutrals never go out of style!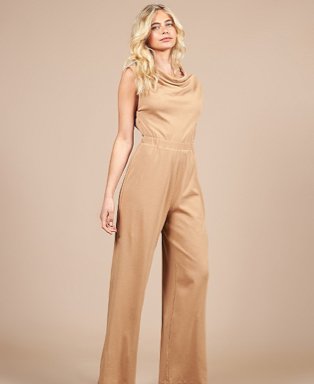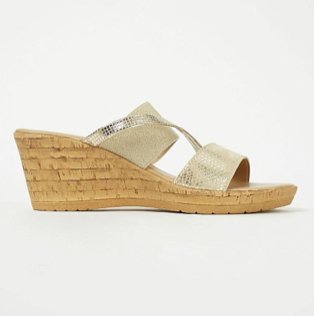 6. Keep It Fresh Year-Round
Jumpsuits are more than just a summer wedding option. They can also look chic year-round with a few simple updates. For autumn and winter weddings, refresh your jumpsuit with timeless black heels and a longline jacket. Picking textured fabrics, like crepe or velvet, will bring a touch of luxe to cold-weather looks.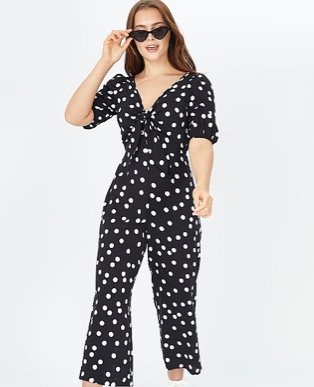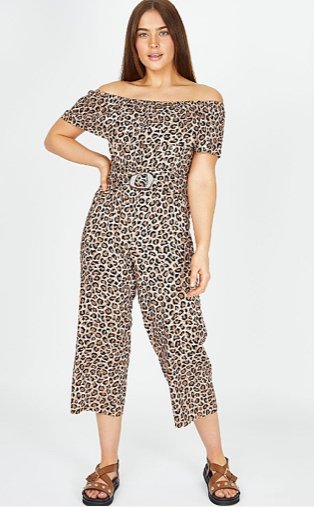 7. Select Well-Fitting Lingerie
The foundation to every comfy wedding guest outfit is well-fitting lingerie. Jumpsuits often feature cut-out sections, low necklines and strappy shoulders, meaning a discreet bra is essential.
Solve your dressing dilemmas with multiway styles and dance the night away (without worrying about straps falling down!) with our strapless bras. Once you've chosen the style, choose from a collection of nude, black and white shades to sit discreetly under your jumpsuit.