With their playful vibe and statement silhouette, wide leg trousers have our wardrobe in full throwback mode – and we can't get enough! From high-waisted designs and flared jeans to palazzo pants and cropped culottes, there's a wide leg style out there for everyone. Scroll down to discover what to wear with yours.
Wide Leg Trouser Style Tips
Effortlessly cool and 70s inspired, wide leg trousers are our new fashion favourite. With their striking shape, we know that styling the trend can seem a little more daunting than wearing your usual jeans and joggers.
Thankfully, wide leg trousers are surprisingly versatile and just as easy to wear as the rest of your wardrobe. Whether you want to go casual with knitted wide leg trousers and sweatshirts or dress up wide leg jeans with puff-sleeve tops, the trend is ideal for both work and play.
How To Wear Wide Leg Trousers
From balancing your look with structured tops to choosing 70s shades and the right shoes, our wide leg trouser outfit ideas have all the inspiration you need to make the trend your own.
1. Balance The Outfit With Structured Tops
When it comes to styling wide leg trousers, it's all about balance. With their flared bottoms and high-waisted design, the best tops to wear with the trend are ones that will create a contrasting shape. Think tucked-in T-shirts, fitted long-sleeved tops and crop tops to add structure.
You can also set off the look by choosing trousers in neutral tones, including cream, beige and black wide leg trousers. Finish off your outfit with a pair of chunky trainers and you'll be good to go!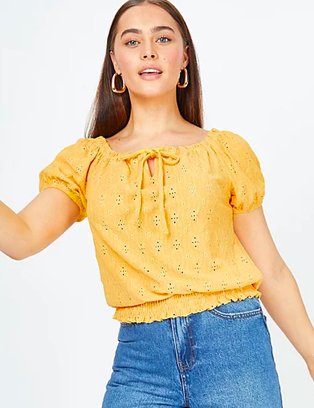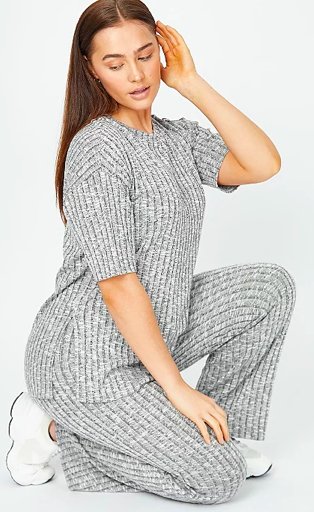 2. Love Loungewear In Knitted Wide Leg Trousers
After more than a year in our loungewear, we're not ready to give up our comfy and cosy pieces just yet. Luckily, transforming wide leg trousers into loungewear is easier than you might think. For a low-key vibe, switch formal fabrics, zips and buttons for relaxed, knitted trousers with stretchy waistbands.
Whether you're catching up on your latest box set, walking the dog or looking to master the slouchy silhouette, knitted wide leg trousers and wide leg joggers make the perfect new-season loungewear. Style up with matching sweatshirts and hoodies in neutral tones for a snug and on-trend combo.
3. Refresh The Look With Denim
Whatever the trend, we're always in the mood for a bit of denim! To get your denim fix, swap your trousers for wide leg jeans. Choose mid-wash jeans for a timeless appeal or work summer-ready styles in light wash designs. Pair the look with a puff-sleeve blouse or an oversized collar top for a fun and fashionable outfit you'll love to show off.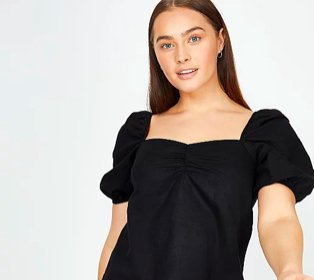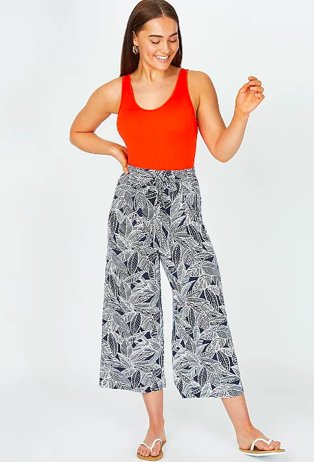 4. Mix-And-Match With Cropped Culottes
We're more than ready to soak up the sun with friends and family and we're sure you feel the same! To dress for sunshine, pick cropped wide leg trousers, like culottes. Cooler than full-length designs, easy-breezy cropped culottes are ideal for all your warm-weather adventures.
For picnic dates and outdoor brunches, we're wearing ours with a tucked-in tee for maximum style points. Details can make all the difference, so keep your outfit fresh with retro sunglasses and gold-buckle belts. BBQs in the park? Count us in!
5. Slip Into 70s Shades
Wide leg trousers are a 70s style staple. For a colour palette that matches the decade, choose warm tones from chocolate brown and oatmeal to burnt orange and mustard yellow.
For the ultimate throwback, pick flowy trousers made from textured fabrics, including knitted, velour and ribbed designs. Adding interest and depth to your look, a touch of texture goes a long way – trust us!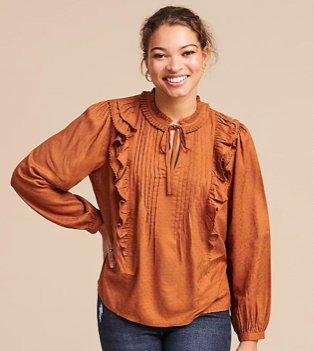 6. Shoes To Wear With Wide Leg Trousers
Wondering what shoes to wear with wide leg trousers? You're not alone! With their floaty hemline, we know it can be tricky to decide what shoes work best with the trend. The good news is wide leg trousers can easily be dressed up and down with different footwear.
For a cool and casual combo, team wide leg trousers with flatform trainers. Thanks to their leg-lengthening design, flatforms will ensure the shape of the trousers fall perfectly. We also love the look with heeled ankle boots in winter and strappy block sandals in summer. Any shoe that adds a little height is the way to go!