Share the love this Mother's Day and spend some quality time with your loved ones. There are plenty of unique and thoughtful ways to celebrate the special day and dressing up in matching mother and daughter outfits will make Mother's Day 2022 one to remember.
Whether you're celebrating your first Mother's Day or looking for a new tradition, our guide is popping with creative outfits and accessories so you can match with your fave lil fashionista on Sunday 27th March. We're here to remind you that you don't need to wear the exact same pieces to match!
What Is A Cute Colour To Wear On Mother's Day?
The best part of any special occasion? Getting ready, of course! Whatever adventures you have planned for Mother's Day, choosing a co-ord colour scheme is a savvy way to get matchy-matchy with your mini-me or mini-mes!
Go mellow with yellow or add a pop of colour with bright blues. Keep things calm with pastels and show compassion with pinks and reds. Pick a shade you both love and harmonise colourful pieces across our women's clothing and girl's clothing collections.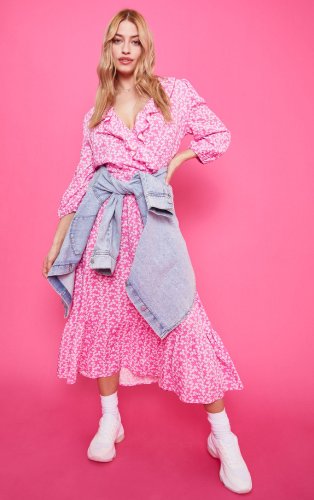 Matching Outfits Ideas for
Mother's Day
1. Matchy-Matchy Dresses
Twinning with your little one is easy breezy if you're reaching for dresses. Remember, you don't need to rock an identical frock to your mini diva – coordinating the shape and style of both your dresses will keep looks matchy.
Treat yourself to a dreamy dress in your favourite floral or animal print and match it with an adorable girl's dress in a samey style. THE perfect Mother's Day selfie opportunity! Share your smiles with us by tagging @GeorgeAtAsda or #WeAreGeorge on Instagram. We LOVE seeing how you and yours style our fashion!
2. Swap Styles
Switch things up this Mother's Day and let your tiny trendsetter be your personal stylist. They'll LOVE being boss for the day and picking both your outfits – we can't promise there won't be any colour clashing or fashion faux pas – apologies in advance! You can both work a statement style with our killer collection of denim jeans and trendy girl's jeans. Now that's how you style double denim right!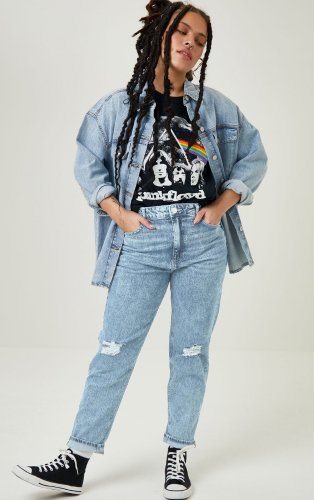 3. Love To Lounge
Spending the day watching your fave films (we vote Disney!), is a fab way to celebrate Mother's Day at home. And better yet, it's the perfect opportunity for you and your little one to kick it back in trendy loungewear. With so many fashionable girl's joggers and girl's hoodies, they'll love injecting some of their personality into their look, and you can follow suit by popping on a hoodie and pair of joggers, too.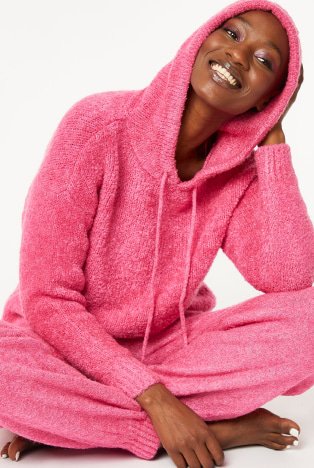 4. Dress Up In Disney
It's no secret that grown-ups love Disney just as much as kids do! At George, our women's character clothing is packed with THE best Disney-inspired sweatshirts, dresses, t-shirts and more! From Mickey and Minnie jumpers to Princess Jasmine tees, you'll find tons of magical inspo in our iconic collection. Stay matching with mini-sized Disney clothing for your little fan, and dress them in a Lion King, Winnie The Pooh or Marvel design depending on their fave character!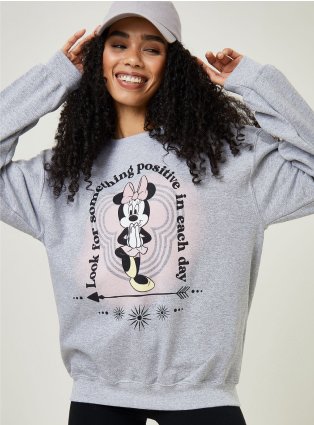 5. Pop On Some Accessories
When you don't fancy fashioning the same outfits, team up with your tot and match your accessories this Mother's Day. You can both put on a beanie, headband or scarf to liven up your outfit and synchronise your look. Another idea, step out in similar styles and channel your inner ballerina with girl's ballet shoes and women's ballet shoes. Bonus points for the best Plié!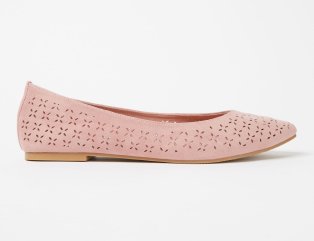 6. Get Cosy in PJs
After a long and memorable day of celebrating, it's time to hit the hay. Get ready for bedtime, snuggle up in a pair of matching PJs in the same colour or print, and set off for a dreamy night's sleep. Unwind before bed in the comfiest girl's nightwear and cosiest women's pyjamas whilst you reminisce on your lovely day.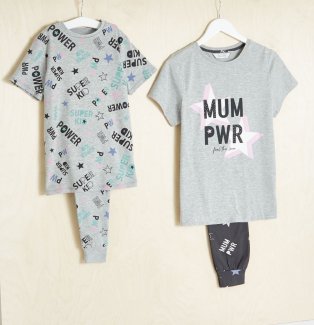 7. Get The Entire Gang Involved
Encourage all the family to get involved in the excitement and dress up in family matching outfits on Mother's Day. You can all drop the same shade or chill out in matching loungewear and enjoy a cosy afternoon at home. Your entire outfit doesn't need to be the same, so maybe flex some funky matching socks instead!
Did you know we're now on TikTok? For fashion and lots of lols follow us @georgeatasda and don't forget to tag us in your Mother's Day lewks!