Just like us grown-ups function best with a good night's rest, the same goes for our little angels! In the first few months of their lives, babies spend up to 18 hours of their day snoozing. With this in mind, it's super important to optimise your baby's nursery for a restful night's sleep.
Our guide has plenty of handy hints and tips to ensure your baby's sleep space is super-snug. Discover everything from the most adorable nursery accessories to essential nursery furniture so your baby can sleep peacefully all night long. Zzz's incoming…
How To Create A Sleeping Sanctuary For Your Baby?
Putting your child down to sleep can feel challenging at times, but don't worry – we're here to offer a helping hand! You can create a calm haven for your little one with a few simple steps, such as controlling light and noise levels in their room and placing their baby toys out of reach.
Filling their drawers with baby essentials will set them up for activities that involve more than just sleeping.
After all, being cute is a full-time job!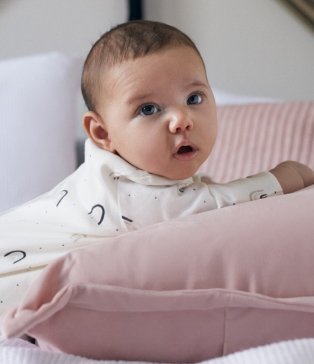 1. Newborn Baby Furniture
It's always important to start with the basics when setting up your baby's nursery for sleep. They'll need a cosy nest to unwind after a long day of being adorable!
Newborns feel comfiest when sleeping beside their parents and in their presence. A Moses basket provides a safe (and cosy) space for your baby and is a well-loved choice for new parents.
At bedtime, you can place the Moses basket right next to your bed and transport it from room to room during those much-needed daytime naps.
Opting for a Moses basket with a stand means you have a permanent spot for your baby's bed. Don't worry, you can always pick up a Moses basket stand separately. For more bonding time, you can gently rock your baby to sleep in a glider chair that has a soothing motion. As it turns out, a rocking chair is a comfy piece of furniture for you too!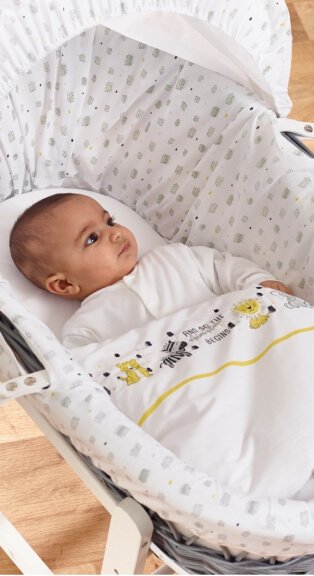 2. Cosy Cots
Once your little one is ready for the next stage of their development, moving them into a baby cot or cot bed will allow them to transition to a restful night's sleep as they continue to grow.
Cots are designed with safety first, so once your baby is settled for the night, quietly nip off to the living room and with a handy baby monitor, you can watch as they wriggle.
For children who are a little older and taking their first steps (a fantastic milestone!), you can always install a stair gate for added peace of mind.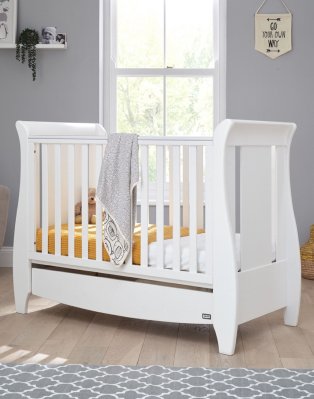 3. Beautiful Baby Bedding
Picking the bedding for your baby's room can be heaps of fun. There are so many colourful and playful prints across our baby bedding selection; you're bound to find something you and your baby will love!
To ensure your baby feels comfortable all night long, start things off with a firm cot mattress, pop on a fitted sheet, and finish with a dreamy duvet set. Opt for bedding in neutral and pastel shades such as greys and taupes for a peaceful vibe, or add some fun with rainbow and Disney-inspired designs.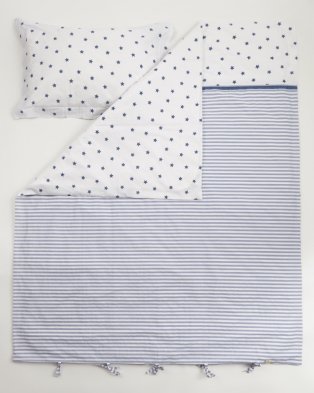 4. Dim The Baby Nursery
Although little ones can experience a fear of night-time and darkness, bright lights and early morning sunshine creeping into their nursery can easily awaken them. A great way to avoid sunlight peeking through windows is by popping up blackout curtains. Match curtains to the existing nursery colour scheme and create a soothing vibe with soft colours and neutral tones.
Avoid harsh ceiling lights and equip your nursery with a night light to make your little one feel safe. Despite the fact their lil' haven may be dark, you'll still want the option to keep an eye on baby's bedtime movements – our baby monitors have it reliably covered!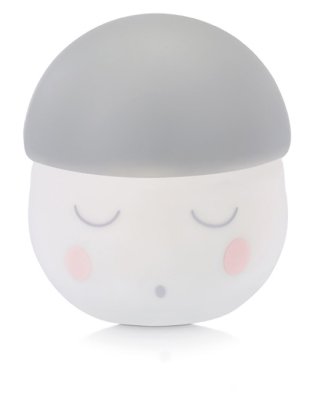 5. Keep Things Calm
A fab way to encourage sleep is by creating a soothing space. Optimise your baby's sleep by decorating in calming colours, such as greens, soft yellows and light greys. Be sure to keep their room tidy, tuck any toys out of sight and keep only a few items out on display.
Placing items out of reach is a great way to avoid overstimulation for your baby. One practical idea might be moving the baby mobile away from the crib to the changing unit.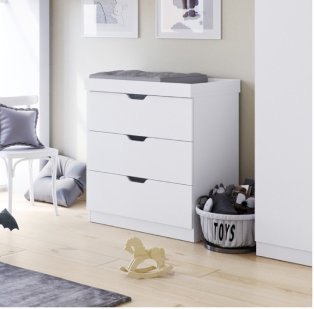 6. Find The Top Temperature
Finding the optimum sleeping temperature for your baby is essential at every stage of development. Keeping things a little cool and dropping the temperature at night-time can help your baby have a night of more restorative sleep. Oh, and it's good for us too!
You can monitor the temperature in the nursery with a thermostat or smart monitor, and make sure to dress your baby in the appropriate number of layers depending on the weather and season.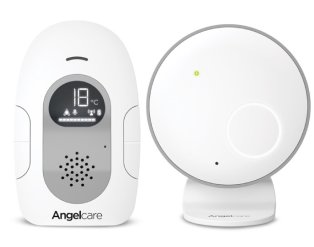 7. Set Up A Sleep Schedule
Winding down for the evening with a bedtime routine will help your baby to eventually fall asleep on their own. You can begin slowing things down for the day by pouring a bath, dimming the lights, reading a bedtime story and singing a lullaby.
Take this time to have some extra cuddles (as if we need an excuse!) and try to keep activities at the same time each evening.
Naturally, their routines will change as they grow and having a structured routine helps regulate your baby's body clock.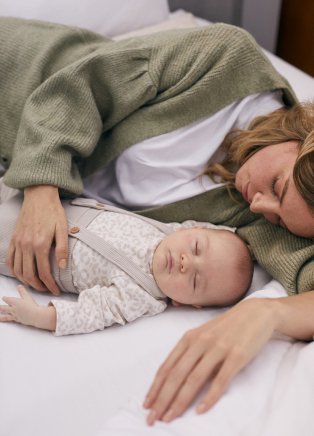 8. Snooze In Baby Sleeping Bags
Your little one can snuggle up in baby sleeping bags, a safe alternative to blankets, which come in a variety of warmths. Choose according to the season, going for lightweight sleep sacks in the summer and heavier ones in winter. Getting the size right is key, in order to comfortably fit them over your child's head. For cute picks, definitely check out our Billie Faiers collection.