Whether you're starting from scratch or looking for ways to hit refresh on dated bathroom decor, here at George, we have everything you need to create the tranquil (and functional!) bathroom of your dreams. From super-chic bathroom storage solutions to stylish bathroom accessories and everything in between, our budget-friendly décor tips are sure to brighten up your bathroom in an instant!
Clear Out The Clutter
Starting with a clean and clutter-free space is essential. That means ridding your drawers, cabinets, and shelves of expired products before dusting, cleaning, and mopping (a motivational playlist may be required!). It may not be the most thrilling part of your bathroom refresh – but it might just be the most satisfying!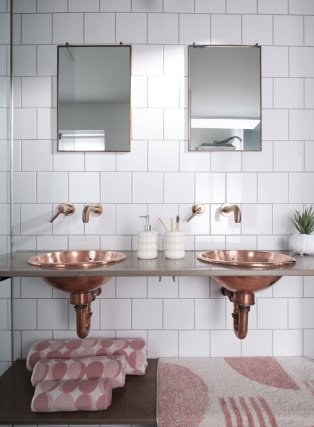 Choose Chic Storage Solutions
Forget about unsightly storage bins and cluttered shower ledges, our storage solutions are super-modern and perfect for keeping your bathroom organised!
Use a stylish rope basket to store spare toilet paper for easy access and – dare we say it – a design moment! Roll up your towels and display them in a patterned set of natural rush baskets, or drape them over a ladder shelf for at-home hotel vibes. You could even conceal spare shower toiletries in woven drawers for a totally clutter-free space. Our advice? Go all out and get cracking on all of the above!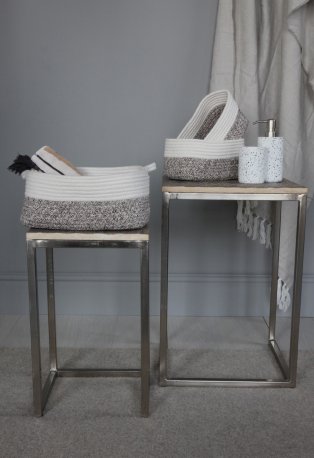 Reflect The Light
Whether your bathroom has a window, an overhead light, or both, decorative mirrors are seriously stylish and made for brightening up your space. Place yours facing the window if you have one, or opposite an artificial light if you don't. Whatever your set-up, when it hits the light your room will feel instantly bigger and brighter – bonus!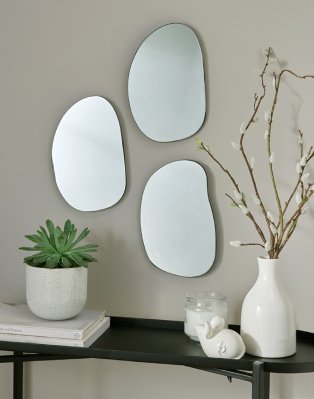 Bring The Outdoors In
Our secret for creating a calm and tranquil bathroom vibe? Introduce elements inspired by nature. Real plants can be tricky to keep alive in a humid bathroom environment but artificial plants are perfect for creating a spacious outdoor feel. You can also complement them with trending rattan and jute accessories like woven baskets or a floating shelf. Ideal for adding texture and warmth to your space!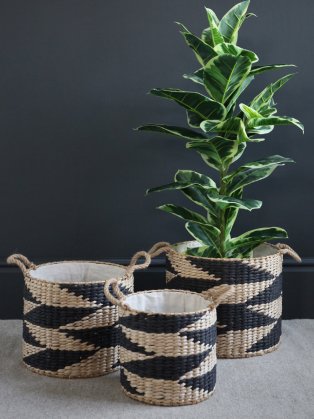 Update Your Bathroom Accessories
Just like in your bedroom and living room, making small, budget-friendly changes can make all the difference to your bathroom décor. With that in mind, try upgrading your bathroom accessories with matching pieces for a calm and tranquil look. Nothing says contemporary-cool like matte black or marble-effect sets!
To add a contemporary twist to your bathroom accessories, reach for a matte black set and the shower curtain to match. Chic and functional? We're already dreamin' of our morning power shower.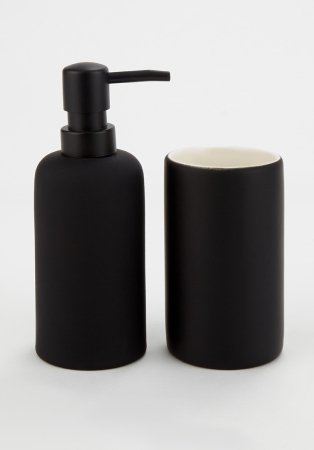 Add Personal Touches
Whilst you want your bathroom to feel calm, clean, and serene, adding in a few personal touches will make it feel unique and welcoming every time you step inside. Hang a set of framed slogan prints, display plants and ornaments on floating shelves, and add a pretty reed diffuser for a fresh, long-lasting scent!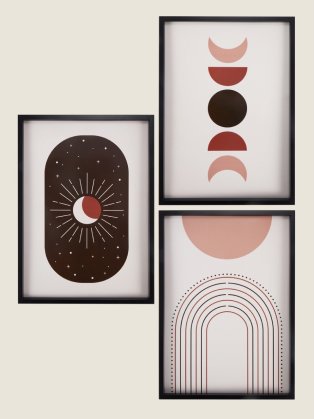 Upgrade Your Bath Towels
No need to alter the paint colour or invest in a brand new suite, simply updating your bathroom towels is all you need for a super-speedy bathroom brightener! We also recommend matching those towels to your bath mat and bathroom accessories for a whole new colour scheme in minutes!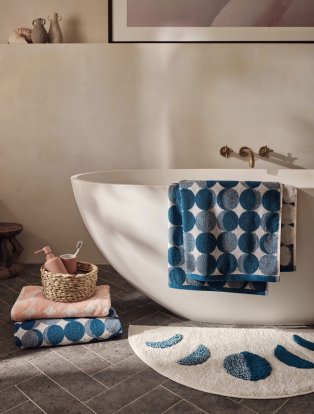 Simple Spa-Inspired Bathroom Décor Ideas
Creating a spa-like sanctuary in your bathroom is easier than you think. It's all about clearing the clutter, decorating with a neutral colour palette, and bringing in natural accents from the world outside. Choose bamboo accessories, soft white Egyptian cotton towels, and plenty of artificial greenery.
Light your fave scented candle to fill your bathroom with a calming aroma. Perfect for a well-deserved soak on self-care Sunday!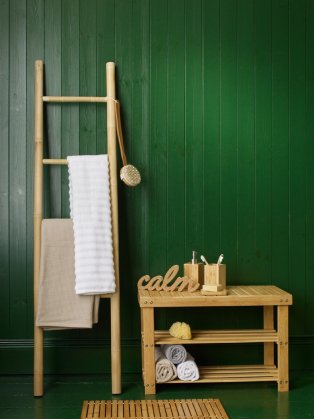 Leave Space For Laundry
It may sound simple but picking a place for dirty laundry is one of our top bathroom storage tips. We're loving classic rattan and jute style baskets and easy breezy canvas laundry bins. Make sure it can be easily carried to the machine on laundry day and say goodbye to dirty socks littering your beautiful bathroom floor!