Watch little faces light up and bring their beloved characters to life with our super-easy (and super-cool!) World Book Day costume inspo.
From children's childhood classics by Roald Dahl and Dr Seuss to Harry Potter stories loved by all ages, we've got outfits for kids and grown-ups alike. Check out our guide for World Book Day outfit inspiration for every character in your family.
When Is World Book Day 2023?
This year, World Book Day falls on Thursday 2nd March. World Book Day is the perfect chance for children to celebrate their love for reading and their favourite authors, too!
Schools and nurseries inspire us to get in on the fun by giving out World Book Day books and tokens and encouraging kids to dress up.
Here at George, we love all things fancy dress, so we've put together some fab World Book Day ideas so you can get involved – minus the last-minute rush! Don't worry, grown-ups, we've got you covered, too!
Take A Trip Down Memory Lane
Hop onto the magic carpet and watch your child get lost in a fairy-tale with our awesome kids' costumes. Bite into a children's classic with the very hungry caterpillar costume. And…why not use the long-adored story to teach kids about getting their all-important five a day, too. Just remember, if they decide to dress up as Little Red Riding Hood, they might want to steer clear of those bright red apples!
If they're off to see the wizard (The Wonderful Wizard of Oz), we've got a delightful Dorothy costume perfect for your little fan. Or, for an outfit they can wear to birthday parties too, get creative and grab a gingham dress and pair of glitzy red shoes. For kids who love the rhymes of Dr Seuss, our dress-up box also includes a cool Cat in the Hat fancy dress costume. Look at me!
Be Inspired By Top Children's TV Characters
Its no surprise, characters starring in those beloved children's books end up on our screens, and our top kids' TV characters make their way into bedtime stories, too! So, World Book Day is a fab time to take outfit inspo from these iconic characters.
Jump muddy puddles with our Peppa Pig Princess and George fancy dress costumes (we apologise in advance for the mess!). Or, get set for adventure with our bright yellow Hey Duggee outfit – woof, woof! If your child is a mini prankster, our Horrid Henry fancy dress costume even comes with a whoopee cushion – you have been warned!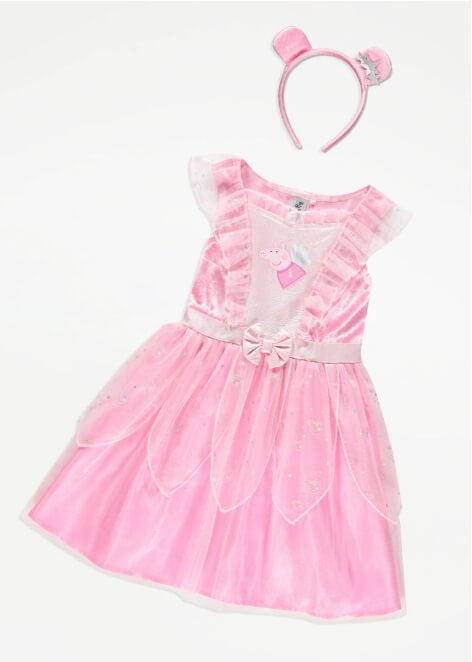 Revel In The Roald Dahl Collection
Do you know someone else who loves reading as much as your little one? Matilda, of course! If your child wants to show up as our beloved bookworm, our Matilda fancy-dress costume has their name on it!
If you'd prefer to put together a Pinterest-inspired ensemble, we've got plenty of blue girls' dresses across our range. Don't forget to add the final touches to their outfit with Matilda's iconic red bow. Just scramble through your arts and crafts box for any loose pieces of ribbon.
What's World Book Day without Roald Dahl? Our Willy Wonka and golden ticket fancy dress costumes are perfect for bookworms who are lucky enough to bag a golden ticket to the chocolate factory – can we come along too, please?
From getting them excited about dressing up to encouraging imaginative play, our World Book Day collection is here to create special moments they'll remember for years to come.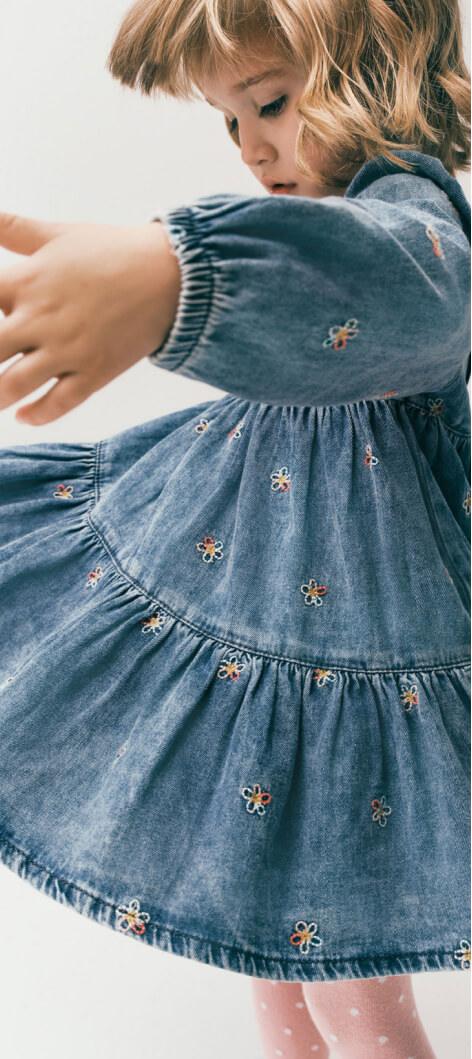 Cast A Spell With Harry Potter Costumes
Head to Hogwarts and master spells with our enchanting Harry Potter costumes, whether your child is a Gryffindor, Hufflepuff, Ravenclaw, or Slytherin, we've got something for every little fan! Perfect your potions with a Hermione fancy dress costume, or bag a Harry Potter outfit and set off for Quidditch!
Who says adults can't get in on the fun? Grown-ups can get involved in the World Book Day magic with an adult's Harry Potter Costume, so March 2nd is memorable for the entire family!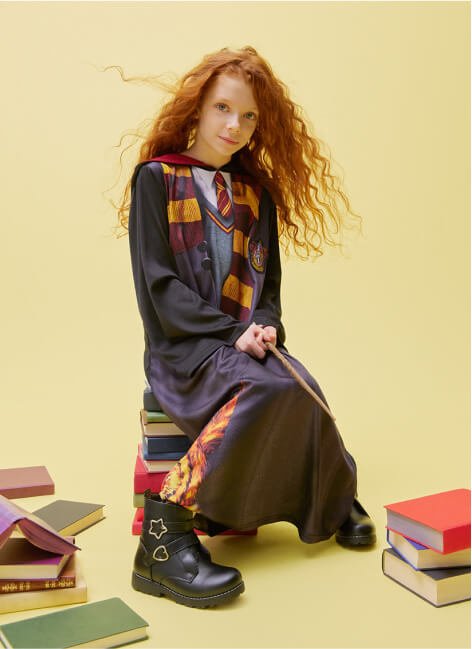 Swing Into Action With Superhero Costumes
We've got something for every comic book lover in our fancy dress collection, with outfits and accessories for every Marvel superfan or DC Comics fanatic. Watch your little hero save the day as Captain America, shoot webs like Spider-Man, or swiftly put on a cape to transform into their fave hero this World Book Day.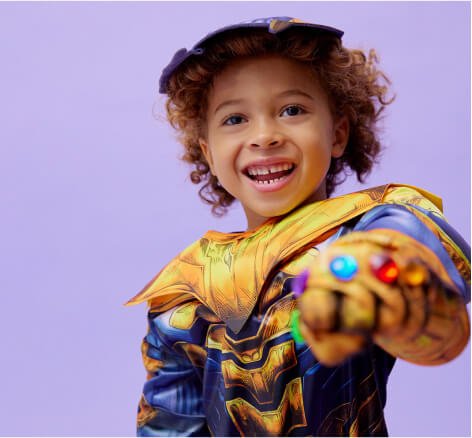 Dress Up As a Disney Princess
Our World Book Day costumes are fit for a princess, a Disney princess! Dress them to be the belle of the ball with our twirl-worthy Beauty and the Beast Princess Belle outfit or let down their hair with a charming Rapunzel costume. Before your avid reader gets onboard their pumpkin, grab a pair of jelly shoes or glittery sandals and pop them into our dazzling Cinderella outfit.
Inspire them to get some much-needed rest and make their Sleeping Beauty outfit some cosy new PJs! Grab a hot choc, read them a (Disney classic!) story and let them know how proud you are of them.
Fancy getting matchy-matchy? Don't miss our matching family pyjamas for adult Disney fans, so you can unwind after a long day of hitting the books.
Once you've got the family kitted out in magnificent costumes, don't forget to send us a snap by tagging @GeorgeAtAsda on Instagram or TikTok for a chance to be featured on our grid. Psst.. we always ask for permission first! We can't wait to see your selfies…