We're with you – with so many different bra types to choose between, refreshing your underwear drawer can sometimes feel more like a chore than a treat. Luckily, it doesn't have to be this way!
To simplify the shopping spree and help you pick the right bra for 'that' occasion, we've created a rundown of the 7 bra types you need in your lingerie collection. From everyday T-shirt bras and super-comfy bralettes to lace designs and nude styles, our guide will support you the whole way – literally!
So, What Different Types Of Bra Do You Need?
A well-fitting and comfortable bra is the foundation of every good outfit. Whether you're searching for a smooth shape or a little lift, keep scrolling to reveal key features of each bra type and when to wear them.
1. The T-shirt Bra
When it comes to must-have bras, a T-shirt bra is our top choice. Always there to offer support, we like to think of T-shirt bras as the BFF of our lingerie collection.
Thanks to their moulded cups and fixed shape, T-shirt bras sit seamlessly underneath clothing for a smooth finish. They also come in a variety of styles, making them ideal for everyday wear. From push-up and patterned designs to versatile black and white shades, this wardrobe hero more than has your back.
Remember, no matter how much you love your favourite bra, try to avoid wearing it daily as this can cause the elastic to stretch. Instead, explore our multipack bra sets to find a T-shirt bra for every day of the week.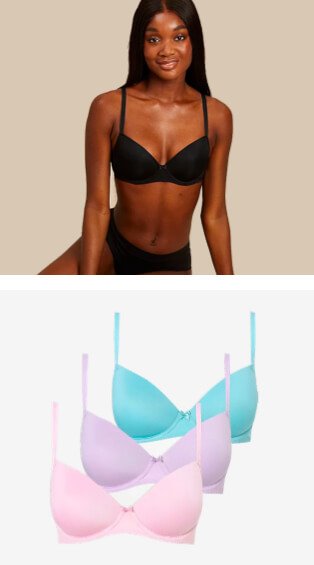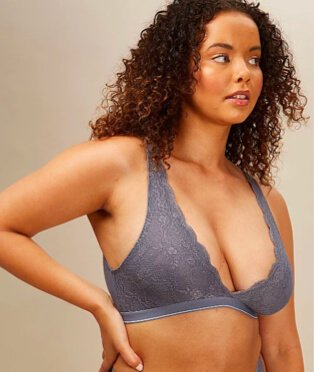 2. The Plunge Bra
Offering minimal coverage with maximum support, plunge bras are a great choice if you're looking for a little lift. With a low cut centre and wide-set straps, they're the perfect partner to slip under V-neck camisoles and plunging necklines.
To find the right fit, make sure the wiring of the bra lies flat against your chest and that the straps sit comfortably. For lingerie that will help you look and feel your best, you can play around with decorative details like lovely lace trims and chic contrast piping.
3. The Strapless Bra
Here at George, we believe your bra straps should never limit your outfit choice! If you love styling looks with different necklines, a strapless bra is the problem-solving shape you can count on.
You might not wear them as often as T-shirt or plunge bras, but strapless bras are essential for tricky-to-wear outfits. For complete comfort and support, choose a design with a wide back strap. Now you can wear Bardot, strapless and one-shoulder tops and dresses without worrying about any stray straps – result!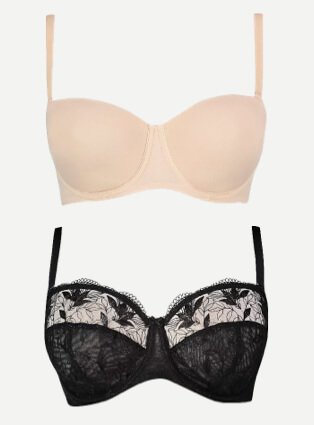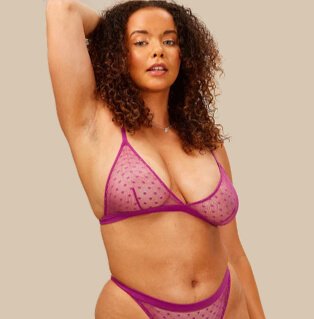 4. The Non-Wired Bra
Super-soft, unstructured and with lighter support than a regular bra, bralettes and non-wired bras are quickly becoming one of our go-to faves. From cotton crop tops and lace styles to strappy and longline bralettes, these everyday bras are ideal for popping under your fave loungewear.
Style up your underwear drawer with a subtle ribbed bralette set or keep things comfy all day long in seam-free comfort bras.
5. The Sports Bra
Different bra styles suit different activities. Whether you're a gym bunny, a seasoned Yogi or a beginner runner, sports bras are a key part of your sportswear. To reduce the strain on your back and minimise movement while exercising, choose racerback and cross-strap shapes.
Top tip: sports bras are designed with a tighter fit than your average bra, so they might take some getting used to (along with your new fitness routine!).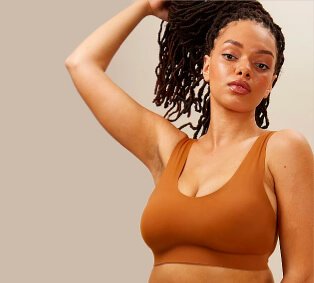 6. The Nude Bra
No underwear drawer is complete without a nude bra. Discreet, comfortable and just the thing to wear underneath white shirts and light-coloured clothing, a bra that matches your skin tone will always come in handy.
We know that no nude is the same, so check out our nude lingerie collection to find the perfect shade for you.
7. The Lace Bra
Don't want to choose between practicality and style? Here at George, you can have both! Give your underwear drawer a glow-up with our gorgeous lace bras, including lace trim, non-padded and padded designs. Every lingerie collection deserves a little luxury.
If you can't get enough of the trend (we don't blame you!), pick matching lace lingerie sets for double the style points.
For more lingerie tips and tricks, check out our bra care guide to find out how to lengthen the life of your favourite bras.