Here at George, we believe there's magic in the minimal. When it comes to home décor (and dinner parties!), sometimes simple is best. So, if you're searching for an effortless and stylish way to update your space, natural home décor is the trend for you.
Whether you want to transform your bedroom with sustainable bedding or energise your living room with natural rugs and touches of greenery, our guide will bring natural décor into your heart and home.
What Is Natural Home Décor?
Creating a sense of balance and calm, natural home décor is characterised by an earthy colour scheme, sustainable homeware, textured fabrics and lots of greenery – both real and artificial! Understated and elegant, natural décor has an all-season feel to it, meaning your space will feel on-trend and timeless come rain or shine. We're sold!
Natural Home Décor Ideas
Get ready to put minimalism front and centre with our natural home décor ideas. Remember, there's beauty in simplicity!
1. Choose An Earthy & Natural Colour Palette
Natural home décor is all about creating a subtle and chic vibe with neutral colours. From teaming caramel and sand with terracotta to pairing moss green with white, the trend's earthy tones will help you master laid-back living.
Can't resist a pop of colour? Natural colour palettes make the perfect backdrop for statement pieces. Whether you choose colourful wall décor, patterned vases or vivid soft furnishings, earthy shades will make sure your bright and bold accessories stand out.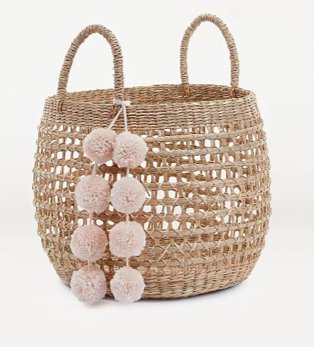 2. Chill Out With Comforting Textures
Thanks to its pared-back colour palette, natural home décor gives you the freedom to get creative with texture. Think natural woven storage baskets, embroidered cushions and knitted throws to bring a little depth and a whole lot of snugness to your space.
Adding interest without any extra clutter, textures are a fuss-free way to make your space feel oh-so-cosy for autumn and winter.
3. Cuddle Up With Sustainable Bedding
We love discovering new ways of becoming more eco-friendly. Luckily, natural home décor is just the thing to help you do your bit for the environment. Nurture the world (and your bedroom!) with our sustainable bedding collection for sweet dreams that put Mother Nature first.
From fresh white duvet covers and forest green sets to subtle patterns and prints, take your pick from our eco-friendly range to discover designs made from recycled polyester, organic cotton and Better Cotton Initiative cotton. Check out our George for Good collection for more sustainable and stylish home inspiration.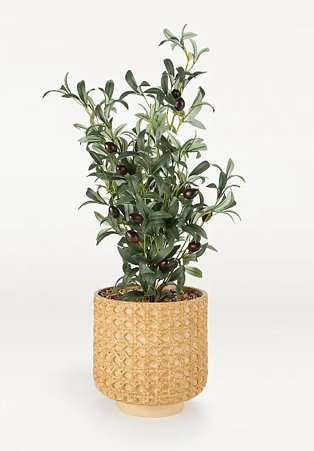 4. Turn Up The Plant Power
Obsessed with greenery? Us too! The good news is that plants and flowers are key to ticking off the natural décor trend. Use snake plants and cheese plants to refresh hallways and kitchens and accessorise home offices and coffee tables with small succulents and cacti.
For an impressive tropical display without the watering schedule, pick low (or no!) maintenance artificial plants instead. No matter your favourite foliage, we've got plenty of choices to help you go green at George. You can also style up your space with decorative dried flowers, seasonal wreaths and pinecones for a grounded and homely feel.
5. Create A Cosy Vibe With Natural Rugs & Curtains
There's nothing better than cuddling up in a relaxing and comfy space when the temperature starts to drop. Happily, natural home décor is perfect for prepping your home for autumn and winter.
Bring warm and cosy touches to living rooms with natural fibre rugs and curtains. Softening the structured elements of your home, natural furnishings are a great way to lighten and brighten the overall mood of your room.
Team the trend with warm-toned side lamps and floor lamps to create a welcoming glow for family film nights. The best part? The neutral colour palette means your décor will be trending through every season – winner.