After the past couple of months, you and your family might understandably be a little out of practice with your usual school routine. Alongside preparing your kids for a change in structure, you also have to begin thinking about (and finding!) their school uniform. As much as your children want to return to the classroom and see their friends, getting them into their uniform might be a struggle – especially if they've been wearing their favourite character clothing all spring!
Even so, sorting their uniform is an important step towards settling them back into school. Helping them look smart and putting them in the mood for learning, our guide includes summer school uniform essentials to make your shopping experience as stress-free as possible.
Why Refresh Your Child's Uniform?
We know that school uniform shopping can be a challenge – particularly if your child would rather wear their fancy dress costume to class! If you're wondering whether to update their uniform for the summer term, check out the following benefits:
The New Normal
After months of learning from home in their own clothing, organising your child's school uniform may not be the first thing on your mind. However, looking the part is key for getting your kids to establish a routine again. Just like packing their school bag the night before and making their lunch, preparing your child's school shirt and school trousers can bring a welcome touch of normality to the week.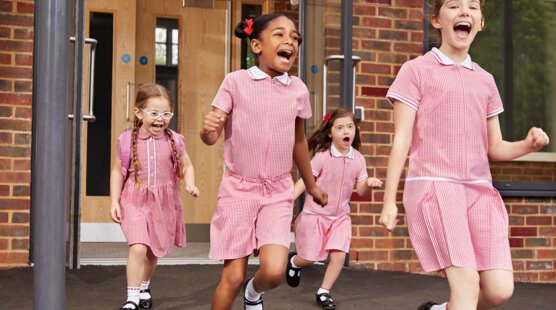 Keep It Cool & Comfy
While their cosy winter pieces may have been passable at the start of spring, the warmer weather now means their uniform needs a refresh. Think short-sleeved shirts and knee-high socks instead of warm school jumpers and thick tights.
Plus, every parent knows just how quickly their kids can grow. For this reason, make sure you check whether their old uniform fits before you start ordering more. This way, you'll know exactly what items you need and what pieces can wait until September.
The Top Summer School Uniform Pieces
From school sportswear and lightweight essentials to practical accessories, discover the top school uniform pieces for summer:
School Shirts
Your child's school jumper is usually the first thing to go when the sun starts to shine. Although this means one less thing to wash at the end of the week (result!), it also increases the importance of a clean and smart school shirt. After all, there's no longer the option of hiding toothpaste stains under their sweater!
While long-sleeved shirts are the traditional choice, short-sleeved designs and polo shirts are a more suitable summer pick for both boys and girls. To reduce the pressure on your washing schedule, stock up on a style for every day of the week and keep one shirt spare for emergencies. You never know when there will be a particularly energetic art class!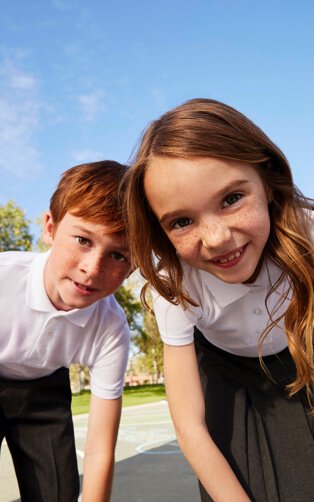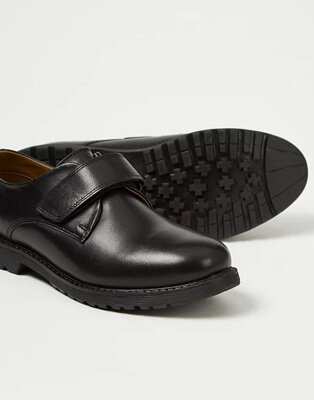 School Shoes
If your child is bored of playing at their local park and can't wait to enjoy their school playground, supportive school shoes are a must. Letting them get from class to class in comfort, a good-quality pair of shoes makes all the difference to their school day.
Despite some dress codes allowing black trainers, most schools prefer pumps, plimsolls, brogues or loafers. Thankfully, these styles are just as comfy to wear and also come in wide-fit designs to ensure all kids can find their perfect pair.
School Skirts & Trousers
Your number one priority while searching for school uniform should be comfort. As well as making sure their uniform fits well, this also means picking fabrics and cuts suited to the season.
For example, lightweight school skirts in skater designs are more appropriate for warmer weather than thick jersey skirts. Similarly, we recommend opting for regular cut school trousers over skinny trousers to enable as much circulation as possible throughout the school day. Grey and black shorts are another summer staple that will keep your kids cool while they learn.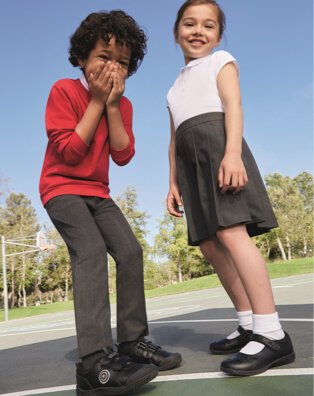 School Sportswear
If you and your family have been loving Joe Wicks' P.E. sessions every morning (who hasn't!), continue the fitness fun with comfy school sportswear. Whatever the activity, the right P.E. kit will help them get the most out of their lessons.
Every school sportswear requirement is different, but P.E. kit basics such as shorts, a sports top and a zip-up should be enough to see them through the summer.
School Bags
Between their schoolbooks, homework and sportswear, the number of items your child has to bring to school can quickly creep up. With many school canteens closed, they may also be carrying a packed lunch in with them each day.
To make both their life and your life easier, equip them with their very own school bag. Ideal for a fuss-free commute, a school bag is a practical accessory that will let their day-to-day experience be that bit smoother.