Easy to wear and effortlessly chic, romantic silhouettes are the trend of the summer. The perfect look for a picnic in a park, a walk around your neighbourhood or a family BBQ,
smock dresses
,
tiered dresses
and peasant
blouses
will be your go-to seasonal attire.
What Are Romantic
Silhouettes?
Known for their puff sleeves, drop waists and ditsy florals, romantic silhouettes focus on a floaty and relaxed shape. After wearing nothing but loungewear and pyjamas in what feels like forever, this playful trend is the ultimate way to see in the summer. Discover more about our favourite features below:
Dreamy Designs
Whether you prefer frills and flouncy hemlines or relaxed bodices and flutter sleeves, romantic silhouettes have something for everyone. Not only are the dreamy designs surprisingly versatile, but they're also just as suitable for work (both office-bound and home-bound) as they are for outdoor activities.
Keep a look out for styles made from floaty fabrics, like chiffon. Letting you stay cool when the temperature heats up, lightweight materials also ensure your outfit has the fluidity characteristic of the trend.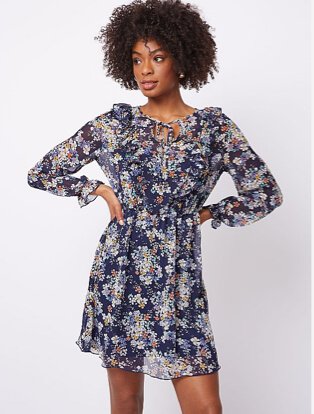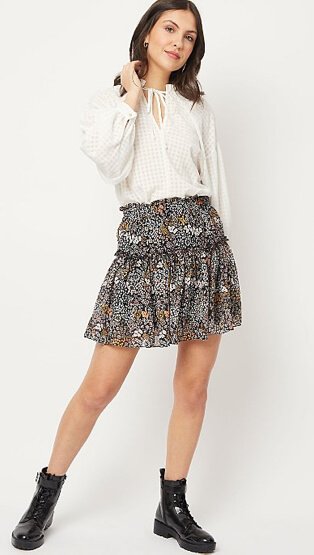 Picnic-Ready Prints
While the most identifiable part of the trend is the shape, prints also play a massive part. Think subtle florals, polka dots and gingham. Brightening up your wardrobe, these upbeat patterns will make a fitting soundtrack to your summer.
Opt for picnic-ready prints that wouldn't look out of place surrounded by sandwiches and sausage rolls and you can't go wrong! Go chic with a gingham midi dress, channel some flower power in a tiered skirt or pick a folk-inspired frilled blouse.
Practically Pretty
As well as being stylish, romantic silhouettes are also a practical pick for all your summer activities. While structured styles can be restricting, billowing romantic silhouettes allow you to sit on your picnic rug or ride your bike with ease.
The Trend's Top Pieces
Find out how to style the trend's top pieces, including video call blouses, outdoor dresses, and giving your autumn pieces a seasonal update:
The Video Call Blouse
Bored of your usual WFH outfits and can't wait to see the back of your tracksuit? Mix things up with a ruffled blouse! Oozing the easy-breezy vibe of the trend, smock blouses and peasant styles are the ideal way to bring a little drama to your video call look. If you're searching for camera-ready colours, experiment with pale blues and muted greens.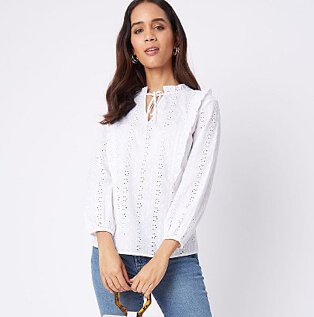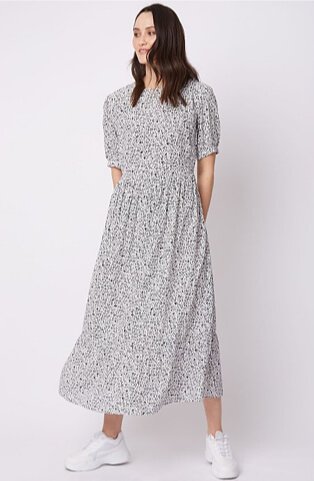 The Outdoor Dress
With al fresco events being the cornerstone of the summer, having a reliable summer dress on hand is key. Whether you're looking for something to throw over your swimsuit at the beach or you want a dress for BBQs and bike rides, a tiered dress will be your best friend.
Available in maxi, midi and mini designs, tiered dresses are an uncomplicated choice for a season spent outdoors. If a picnic's your destination, make sure you finish off your look with a checked picnic blanket and kitsch outdoor dining accessories.
The Outfit Update
The great thing about romantic styles is that they have lots in common with the autumn's prairie dresses. If you have a favourite autumn dress (preferably tiered or with frilled features) lying around, rework it for the warmer months with a few quick updates.
This is where a well-stocked accessories collection is a lifesaver. Simply add a scrunchie, some hoop earrings and a pair of sandals to give your outfit a romantic touch. Dark colours can also be softened with accessories in natural tones, such as woven bags and straw hats.