That's right – with the end of the summer holidays in sight, it's nearly back to school time! The start of a new school year is always a moment to savour (and it's a reminder of just how much our little ones grow over the summer months!). Stay one step ahead of the start of term by refreshing your kids' school uniform, starting with their school shoes.
From plimsolls and brogues to leathers and loafers, choosing the perfect pair of kids' school shoes can be a challenge – fortunately our handy guide is here to make the process easier. Keep reading for our top tips to help you pick the right girls' school shoes and boys' school shoes for your little learners.
What Should I Look For When Buying School Shoes?
Comfort, support and style – with our collection of kids' school shoes, you won't need to choose between the three. Find out what to look out for below so that your kids' school shoes tick all the right boxes.
Comfort
Whether your kid loves racing in the playground or reading in the library, they need to feel comfortable in their own shoes! Made from high quality materials and with comfort always in mind, our range of kids' school shoes allow them to enjoy the things they love.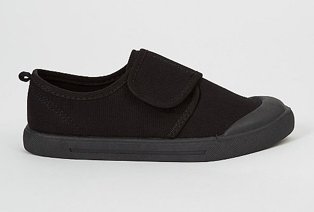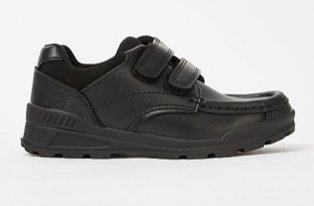 Support
From days running around outside to learning and playing with friends, school shoes are one of the most used parts of your child's uniform. This means it's even more important that they provide enough support around the heel and sole.
Style
Comfort and support are key, but you can still impress your mini fashionista – we know how picky kids can be! From bow details and patent styles to light-up designs, little trendsetters will love our school shoes and trainers.
How Far In Advance Should You Buy School Shoes?
When buying school shoes, it's important to bear in mind that little ones can go through growth spurts – sometimes it feels like they gain inches overnight! For this reason, we recommend buying kids' school shoes between two to four weeks before the start of term.
It's also a good idea to go for a shoe size that leaves some wiggle room to allow for growth. This way, they'll last that little bit longer.
Update Her Uniform With Girls' School Shoes
To make her return to the classroom that little bit smoother, treat her to a brand-new pair of school shoes to show off! From ballet shoes and shiny brogues to simple slip-ons and plimsolls, our collection of girls' school shoes has all you need to get her excited for the return of the school routine.
One thing we love about our girls' school shoes is their versatility. No matter which style you go for, they're easily teamed with girls' school trousers, school skirts and school dresses – meaning they're great for every season.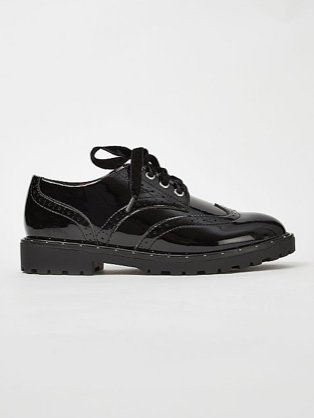 Refresh His Weekday Combos With Boys' School Shoes
Designed with both the playground and the classroom in mind, you'll find a wide variety of school shoe styles in our range of boys' school shoes.
For any parents searching for durable school shoes that put comfort first, black plimsolls and school-appropriate trainers are our top recommendation. Not only are they able to keep up with primary school activities (we're thinking climbing frames and ball games), they're also PE-appropriate.
If you're shopping for slightly older kids who might be more style-conscious in their secondary school years, then our range also includes smart oxford shoes and suave leather loafers.
Try Our Inclusive Wide Fit School Shoes
We know, every child is different, so we've created a collection of wide fit school shoes to suit all little soles. Ideal for parents looking for comfortable school shoes that don't compromise on style, our wide fit options keep up with the school shoe trends of the moment. From stylish patent loafers for girls to super-cool shoes with dinosaur straps for boys, we've got the school shop (and your child's feet) covered.